The oldest is getting to be school age.  Well, he's 3 1/2, but we are starting to enroll him in more social activities, like: swim lessons, story time, play centers, etc.  These are all places were lots of kiddos converge and it's easy to loose or mix up belongings.  I was so excited when Lovable Labels offered to send me an Ultimate Camp Pack and sponsor this post.  I went a little crazy when we got them labeling all his shoes and belongings.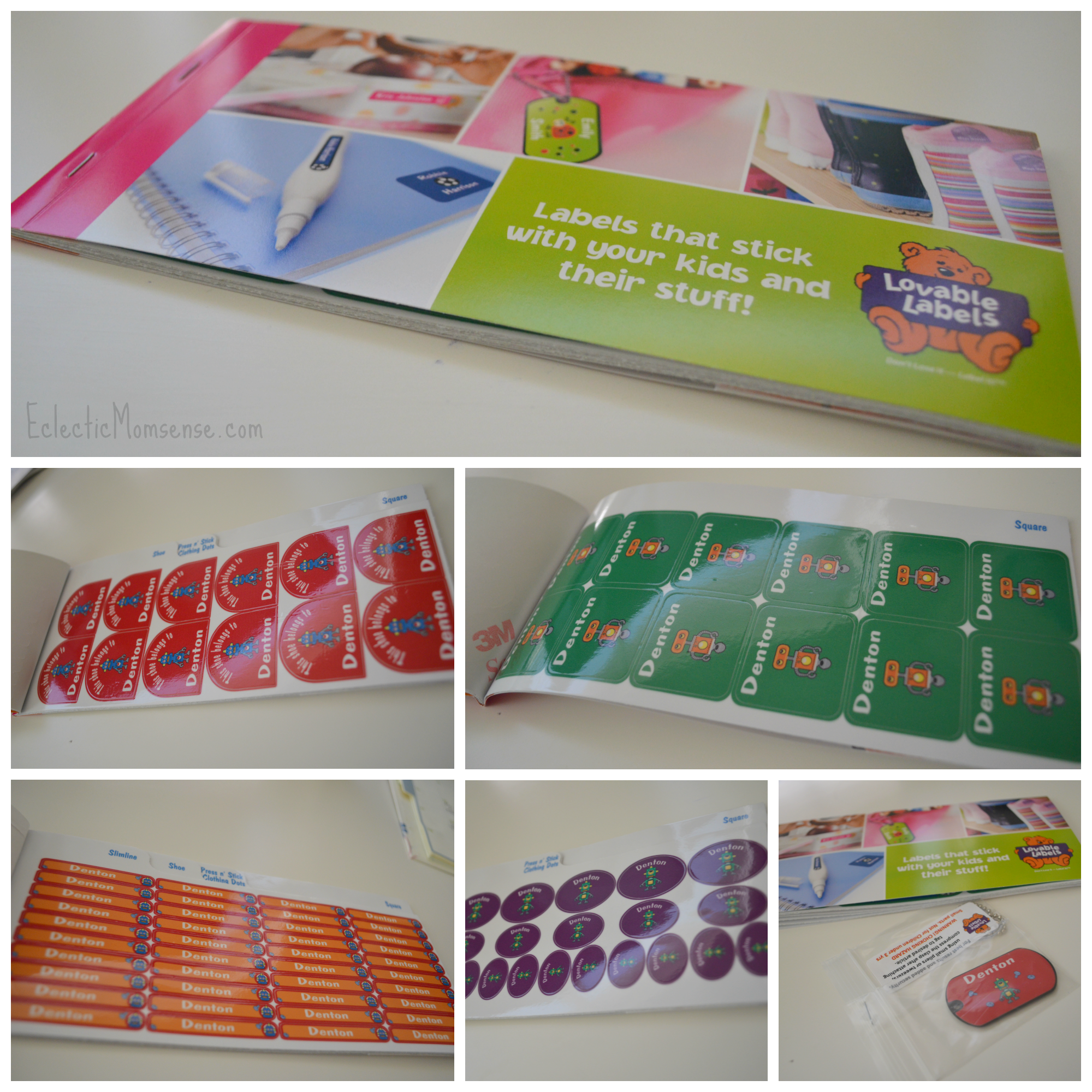 This kit really IS the ultimate.  It is packed with a ton of labels in so many styles, sizes, and colors.  We haven't found anything that couldn't use one of the labels yet.
Price: $44.95
Colors: Available in 20 designs/colors and 45 icons
Features: Dishwasher and Microwave Safe, Waterproof, UV Resistant, Peel & Stick
Quantity
15 Sticker Labels
40 Slimline Labels
12 Shoe Labels
72 Press n' Stick Clothing DOTS™
2 Mini-Metal Tag (two 4" silver ball chain incld)
12 Square Labels
We've been using them for about a month and are more than pleased.  My favorite pick is the shoe labels.  We have many a day that our 3 year old leaves the house with his shoes on the wrong feet.  I used just one shoe label in his left heel so we can work on left and right.  They also make special foot shaped labels for this.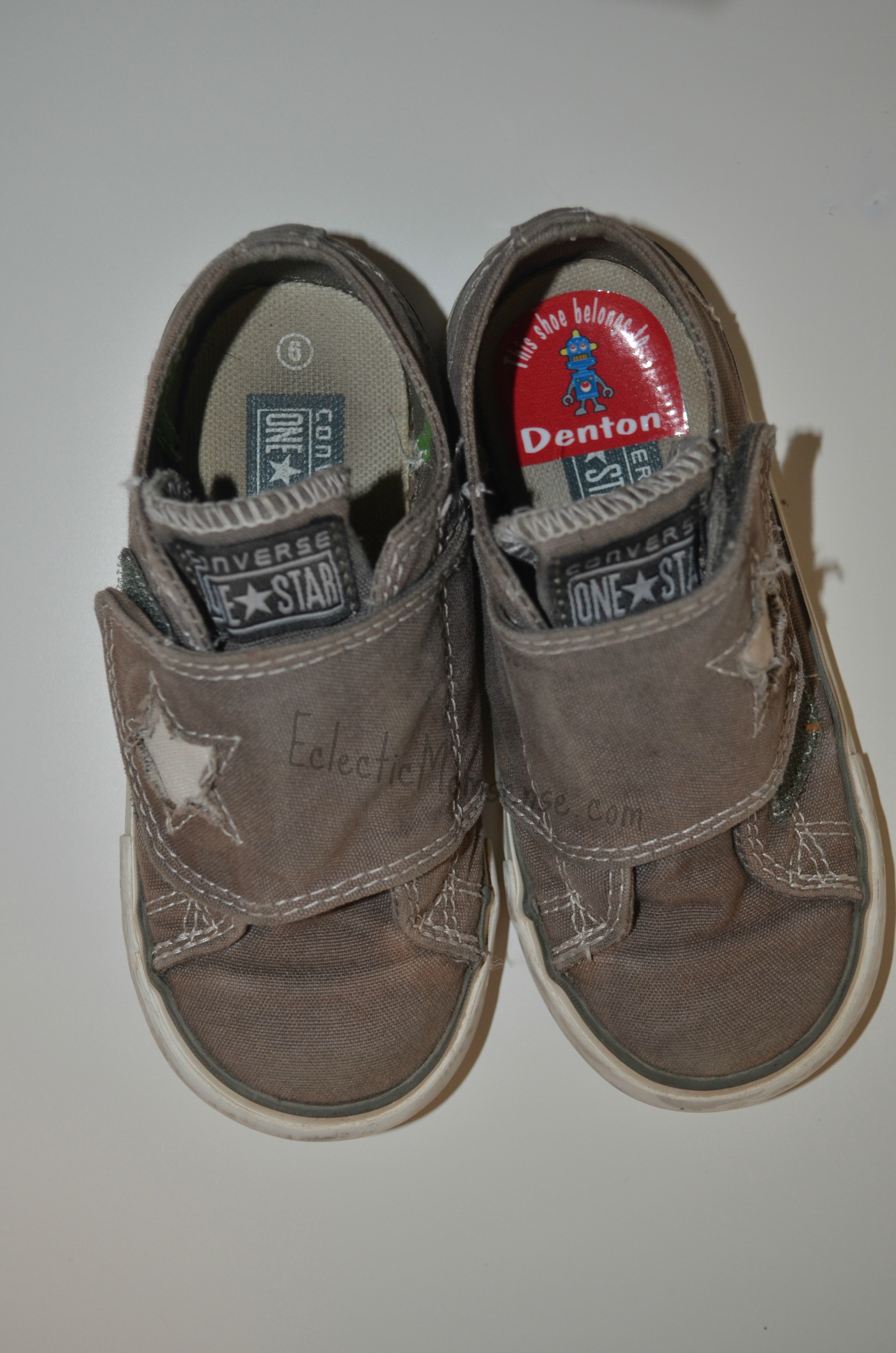 We are making progress with shoes being on the right feet and the label has stood the test of time.  We started out first with a sticker cut in half and it soon got all soggy or lost the sticky and fell out.  The Lovable Labels are still going strong after many outings.  He's got one label in each of his shoes, sandals, and cowboy boots.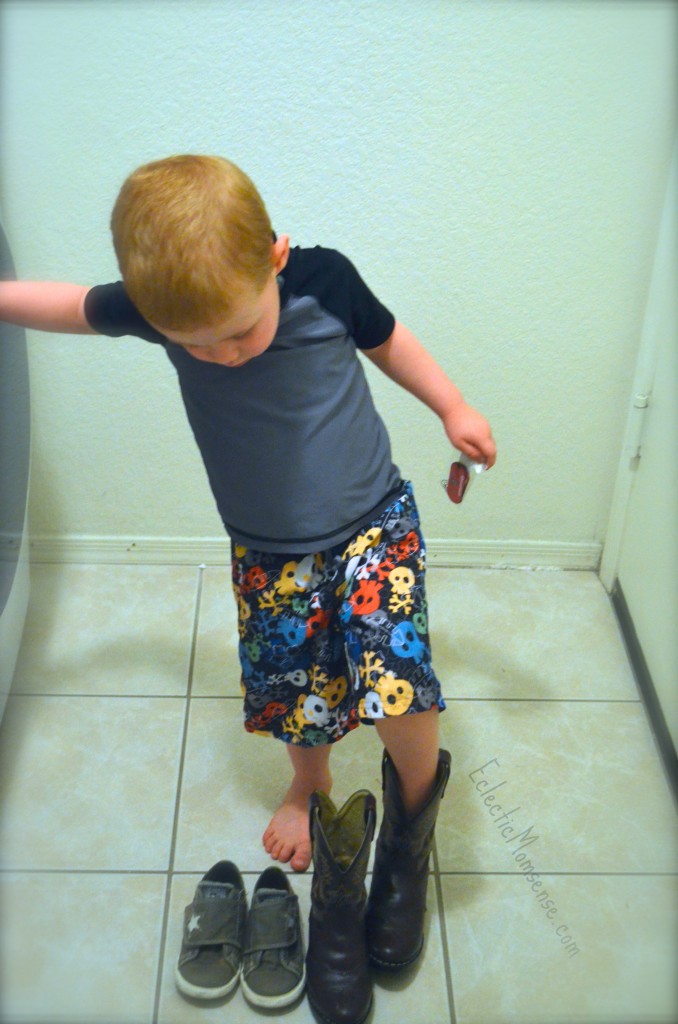 Ultimate Camp Pack Giveaway
Enter:  Use the Rafflecopter below for one easy entry.  Additional entries can be earned by following on Twitter, Pinterst, and sharing on Twitter.
Lovable Labels has a deal for all Eclectic Momsense readers.  Use code: CAMP1320 to receive $5 off any purchase of $25 or more (before taxes and shipping).  Valid until June 30th, 2013.
Disclosure: I received one or more of the products mentioned above for free using Tomoson.com. Regardless, I only recommend products or services I use personally and believe will be good for my readers.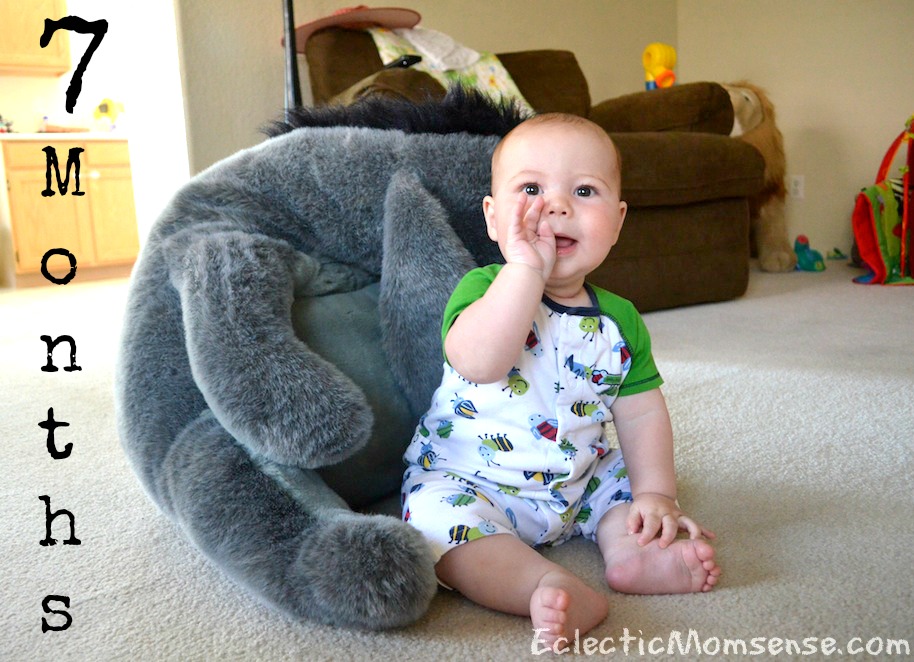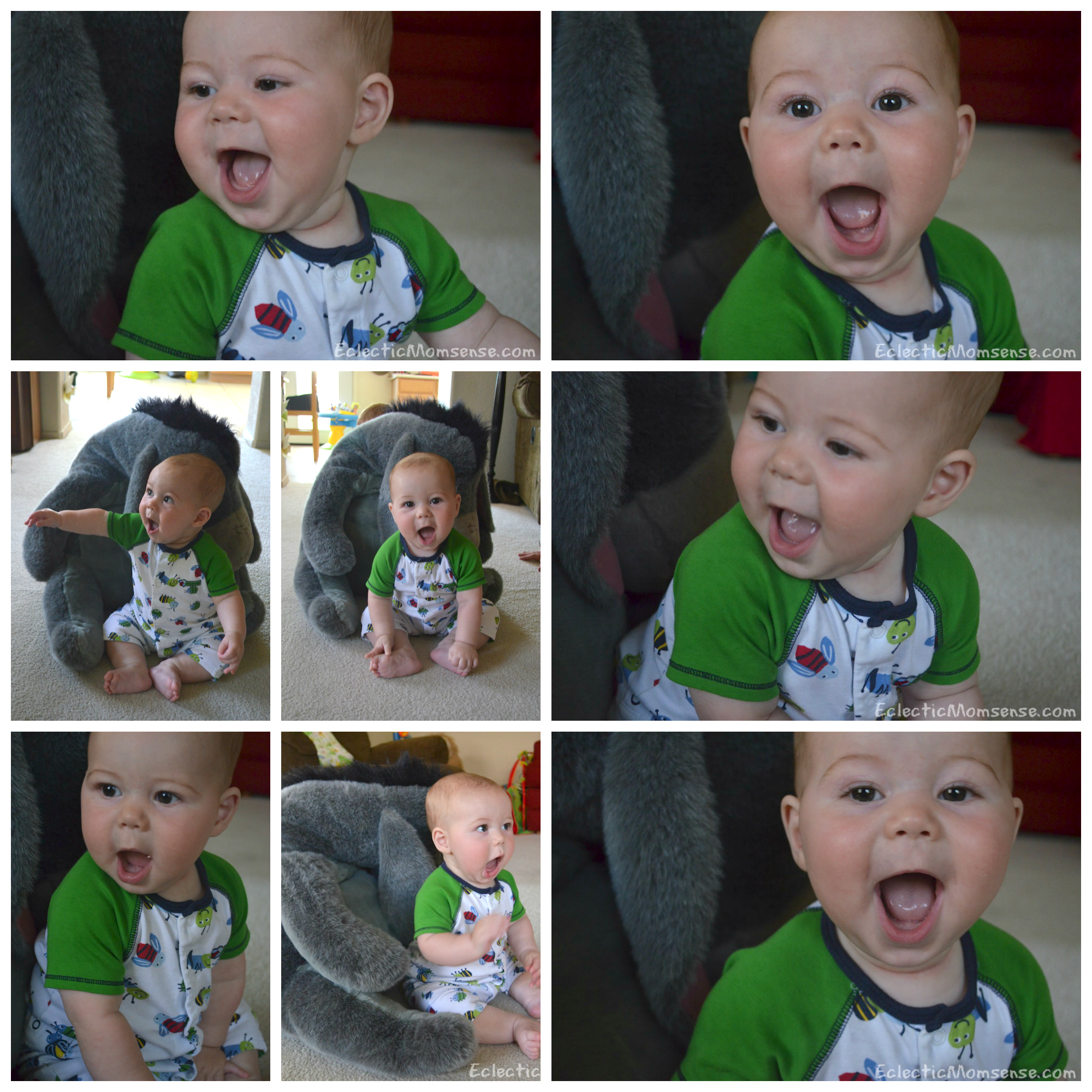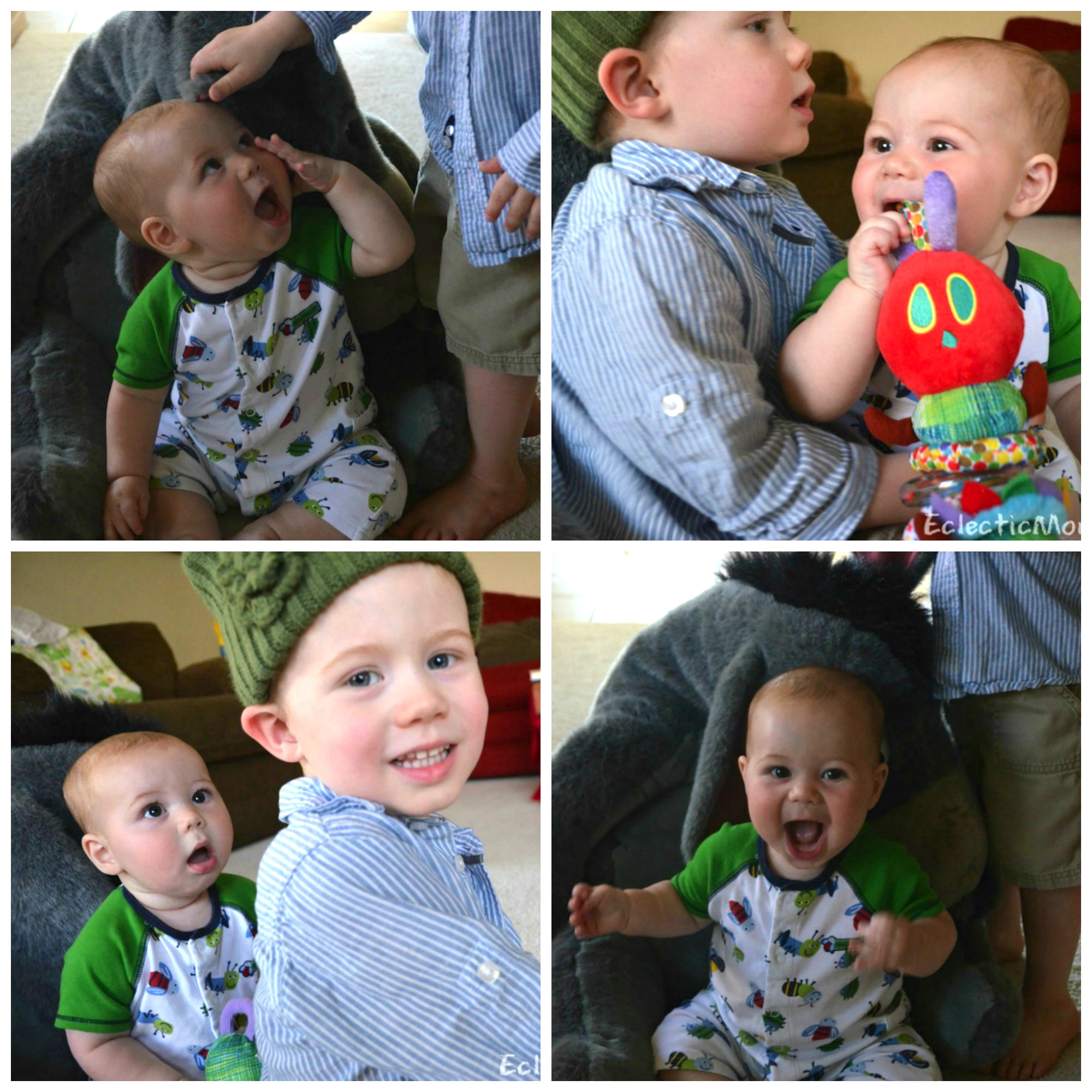 Oh my big boy, my HUGE kid.  Such the opposite in size to your brother but so much the alike in personality.  I'm guessing you are tipping the scale close to 20 pounds now, your brother didn't reach this milestone until 14 months.  You are tall too; almost outgrown your 6-9 month clothes (I broke out the 6-12 mos. bin today).  You aren't doing to many new things this month, just mastering the skills.  You are rolling over more now (in fact as I write this I just looked down to see you had wiggled your way about 3 feet to me and flipped to your belly).  You are starting to actually enjoy food.  You yell at your dad and me if we take your spoon away, but get mad when there is nothing left on it.   You are sitting up like a champ, although mom still is close by in case you reach too far for a toy and plop over.  I can you will be pulling up and crawling in no time.  You always want to be standing or sitting.  Gotta see the world I guess.
You are a quiet kid.  Unless you are hungry, tired, or need a diaper change you rarely cry.  You nap fairly well (2-3 naps a day, 2 short and 1 2 hour nap).  Nighttime we could work on a bit.  You still wake up to eat twice during the night, but thankfully MOST mornings sleep until close to 7, I'll take it.  And check out those faces.  When you get excited you screech just like your brother did and wave your arms frantically up and down.  We call it the pterodactyl scream.
And boy do you LOVE your brother.  You really do.  And he loves you so much too.  I mean seriously look at that bromance happening.  It's all in the eyes and smile babe.  Your big bro gives you kisses, hugs, and always says, "good morning Emerson".  You two break my heart daily.  I can't wait to see your bond as brothers grow.
Hi, I'm Kelly. A wife, mom, and jane of all trades. Just a little bit crafty, a smidgen of all things green, and a huge helping of everything mom! Click Here to learn more.