Are you ready for the secrets to the best tasting homemade Rice Krispie Treats? If you're like me you love cereal treats, but you've just never been able to duplicate the flavor and texture of your favorite restaurant treats or even store-bought. I finally discovered the secrets and I'm ready to share with you!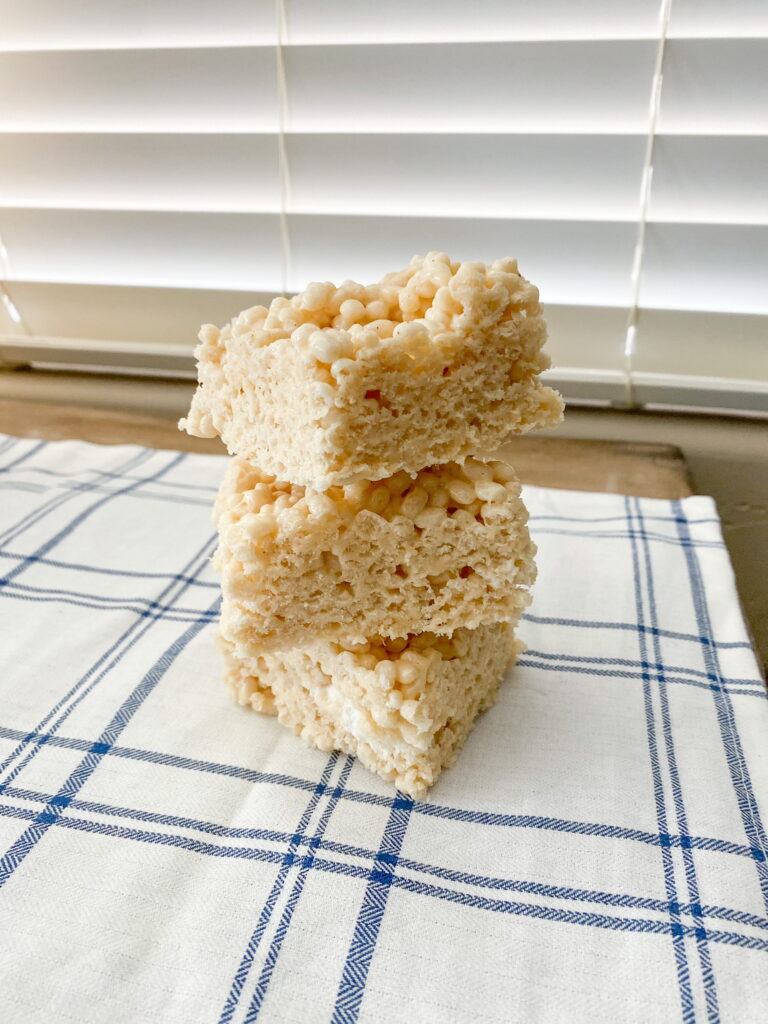 The Secrets to the Best Rice Krispie Treats EVER!
Regular Rice Krispie Treats are fine and all, but this recipe steps it up a notch with brown butter that adds another level to your flavor profile; that's secret number one. Secret number two is a bonus bag of marshmallows added at the end for little pockets of fluffy marshmallows. Finally, secret number three is be gentle. Don't press your treats into the pan! Just lightly dump them into the pan and arrange it softly. Don't worry if the tops not pretty and perfectly flat. As soon as you start pressing it in, it's going to come out rock hard. Let your treats breathe!
The bonus secret to these delicious Brown-Buttered Rice Krispie Treats are toppings. I love a good plain treat, but the addition of mini m&m's or chocolate chips just takes it up a notch. You can even cut your treats into squares and dip a corner into melted chocolate, mmm…
Brown-Buttered Rice Krispie Treats Recipe
Are you ready for the recipe for the best EVER Krispie Treats? Print below, or save it for latter to your favorite dessert Pinterest board. These ooey gooey, fluffy treats will quickly become a family favorite. My husband never was a big store-bought treat fan and now asks for these on repeat!
Brown-Buttered Rice Krispie Treats
These taste just like your favorite bakery Rice Krispie Treats; fluffy, sweet, with a hint of extra buttery/nutty flavor.
Ingredients
1 1/2

sticks

unsalted butter

1

tbsp

light brown sugar

3

bags

(10 oz) of mini marshmallows

pinch

of salt

1

tsp

pure vanilla extract

10

c.

Rice
Instructions
Butter a 9 x 13 pan. Line with a strip of parchment paper. (this makes it easier to lift when done to slice)

In a large pot, melt butter over medium heat. Heat butter until, the milk solids begin to separate and darken. The butter is ready when you see dark flecks throughout the butter.

Once butter is browned, add brown sugar and stir.

Next, add in 2 of the 3 bags of marshmallows, stir until melted and smooth.

Immediately remove from heat and add pinch of salt and vanilla, stir. Quickly mix in the Rice Krispy Cereal.

Finally, add the last bag of marshmallows, and fold in.

Dump mixture into the buttered pan. Lightly spread into place, this will yield fluffy and light treats. DO NOT press them down firmly as this will make them too firm.

Allow treats to cool before cutting into 24 squares (4 squares x 6 squares). Store any leftovers in an airtight container.
Notes
Tips:
Pre-measure all ingredients. Since the name of the game is speed when assembling, this makes it quicker and easier.
Cut the tops off your marshmallow bags too! 
Use only mini-marshmallows. Big ones work of course, but it takes MUCH longer to melt, and they don't work with the last step.
Extras:
Press mini M&M's, sprinkles, or mini chocolate chips into the top.
Dip 1/2 the treat into melted chocolate. Leave plain or sprinkle with candies or sprinkles.
Add gel food coloring to the melted marshmallow mixture to add color to the treats.
Tell me what you think in the comments? Did these measure up to your favorite treats? Did you eat them plain or did you add a little flair with candy or sprinkles?
Pin for later!