Throw a crowd-pleasing pizza party with these easy and budget friendly ideas. Part DIY, part store bought, and a whole lotta fun!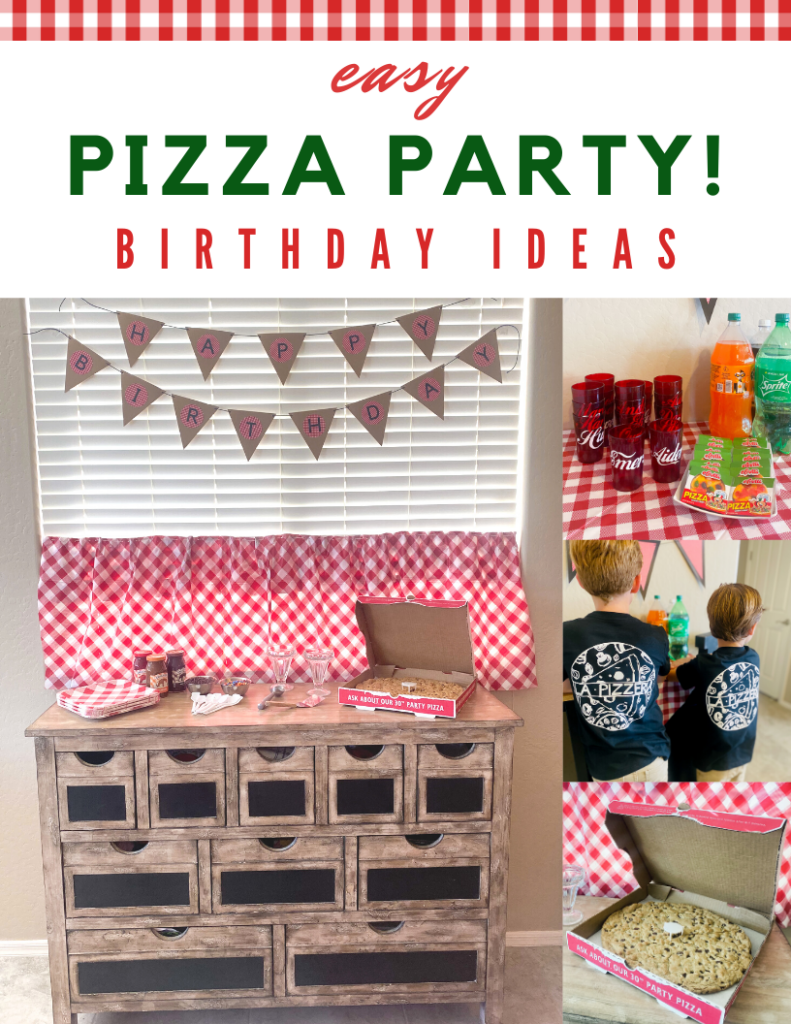 This just might be my favorite birthday theme so far! It was easy to pull together, budget friendly, and was a complete hit with all our guests (parents and kids 7-10 years old). Keep reading for an overview and links to resources.
Pizza Parlor Party Decor
For decor we relied heavily on incorporating the the food and party favors into the design. Classic red cups with personalized Coca-Cola font added to the whole pizza parlor vibe. We continued the red checkered look throughout the party decor.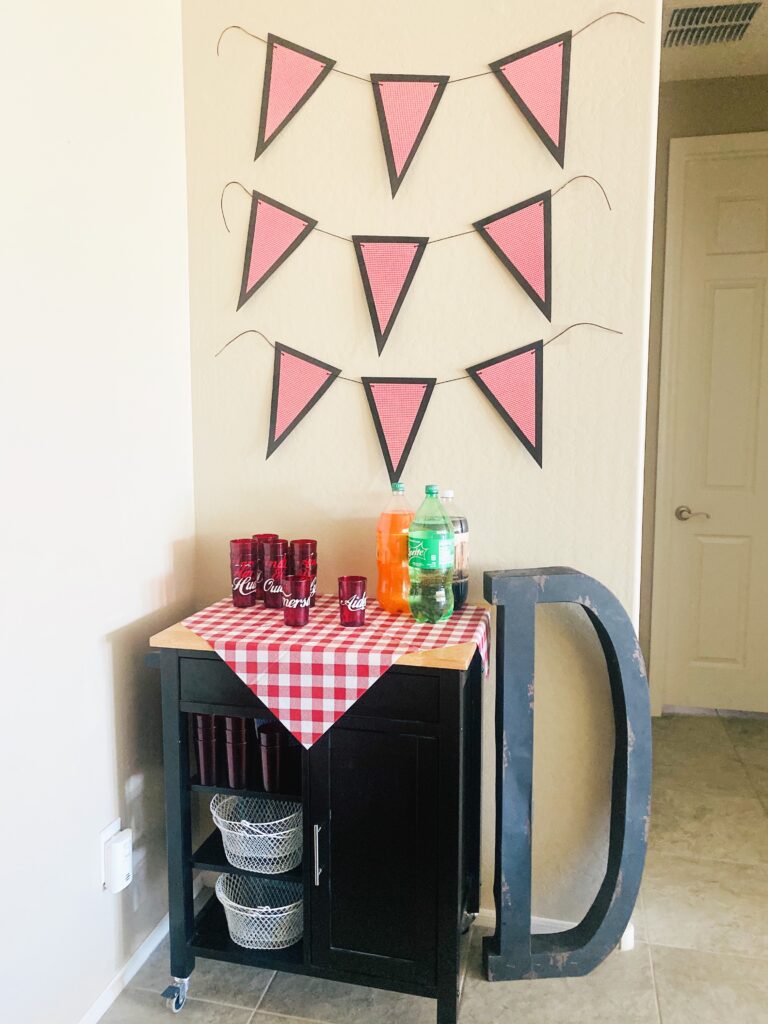 On the dessert table, a pizza box served as an easy way to display the pizza cookie. Fun sundae cups for the birthday boys, and a red checkered balance made from a plastic tablecloth. The table was then framed with a kraft paper and red checker Happy Birthday pennant.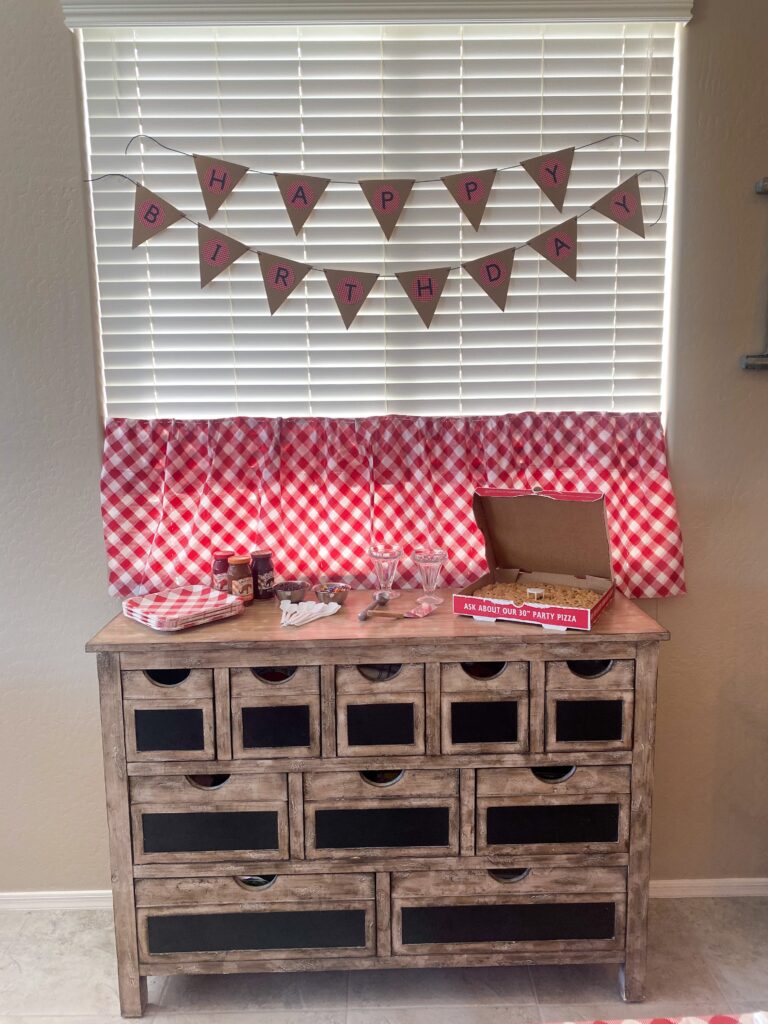 Pizza Party Food & Drink
I love bringing the food into the decor and making it a part of the party activities. We kept it simple and easy with DIY pizza, salad bar, and soda. For dessert we did a pizza cookie and ice cream sundae bar.
Want to make your own pizza parlor cups? Grab the red cups online here. Then, download this font here to have available to use in your electronic cutter program. Create each name, weld, and cut into adhesive vinyl.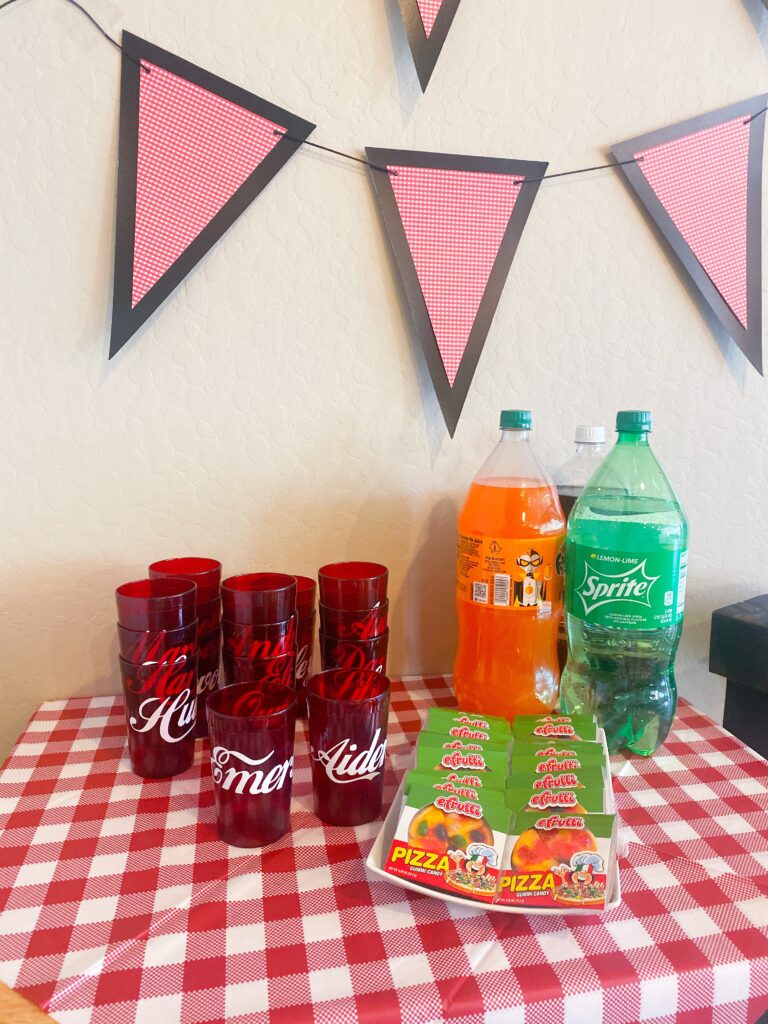 The pizza cookie is super simple too. We ordered pizza from our favorite place the week before and asked for an extra box to take home. Then their dad drew out the logo on cardstock to cover up the pizza place's logo. I scanned the same logo and used it to make heat transfer shirts for each boy with the same logo. See their shirts up close here.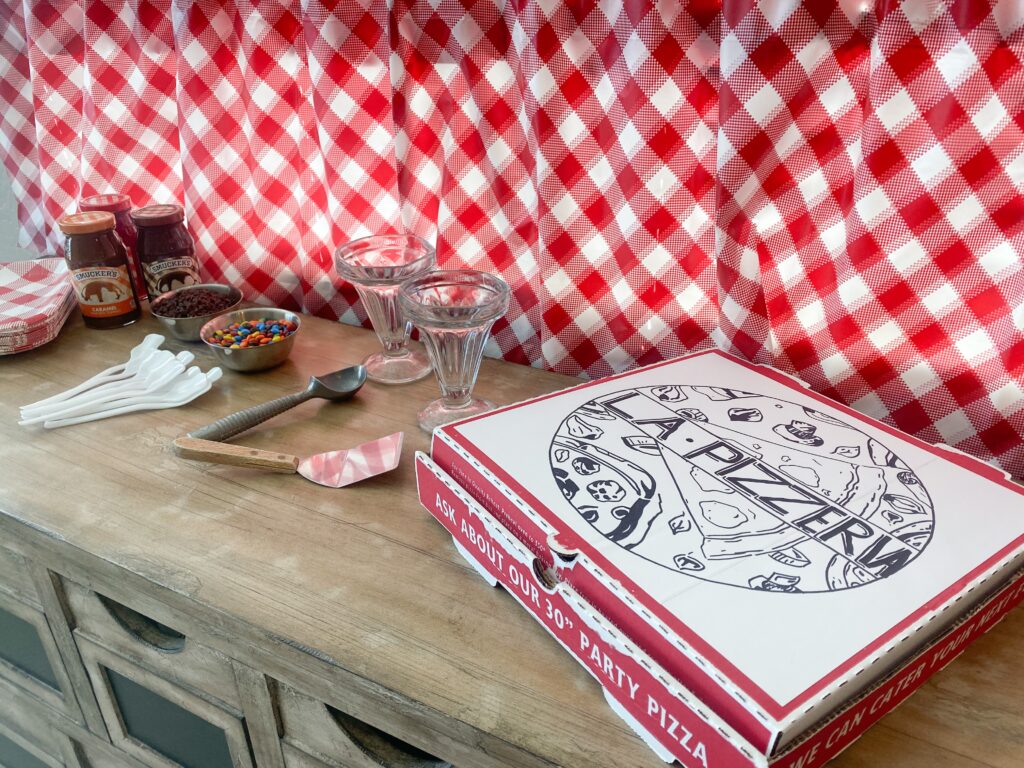 The rest of the food was kid made. I bought par baked crust from Trader Joe's, cut them in half, then let each kid top it with their favorite toppings. Each halved crust was placed on parchment paper and labeled with each kid's name. Then we popped it right on a cookie sheet in the oven and could tell easily who's pizza was who's.
We handed out aprons (party favors made from $.97 tea towels) and plastic gloves for everyone. In the center of each table was sauce, mozzarella, pepperoni, Canadian bacon, pineapple, green peppers, olives, and onions.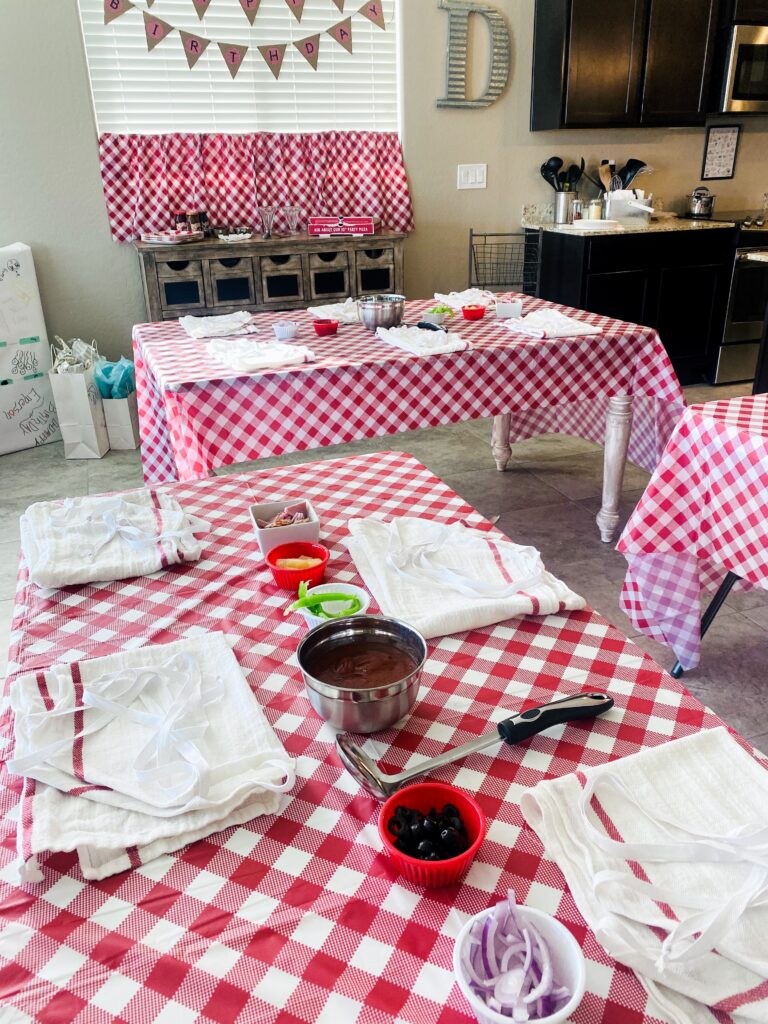 The pizza making project took up a good part of the first hour of our party. While they baked we played the candy unroll game. It kept them pizza while they waited for food. As pizzas started to come out we opened up the salad bar. Leftover toppings from the pizza were used as salad toppings along with dressing and croutons.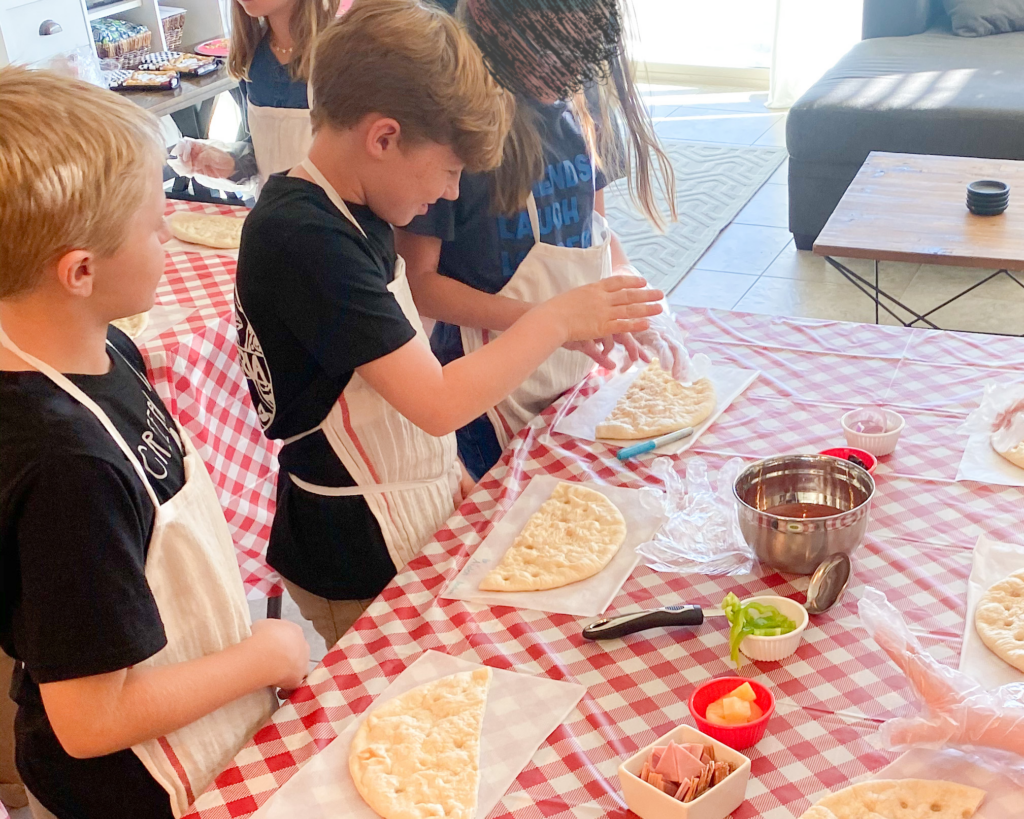 Success! Each halved pizza was the perfect size and they each loved that they had a hand in making their lunch.
Pizza Party Games & Party Activities
Games were kept super budget friendly. Most of the supplies were picked up at the Dollar Tree.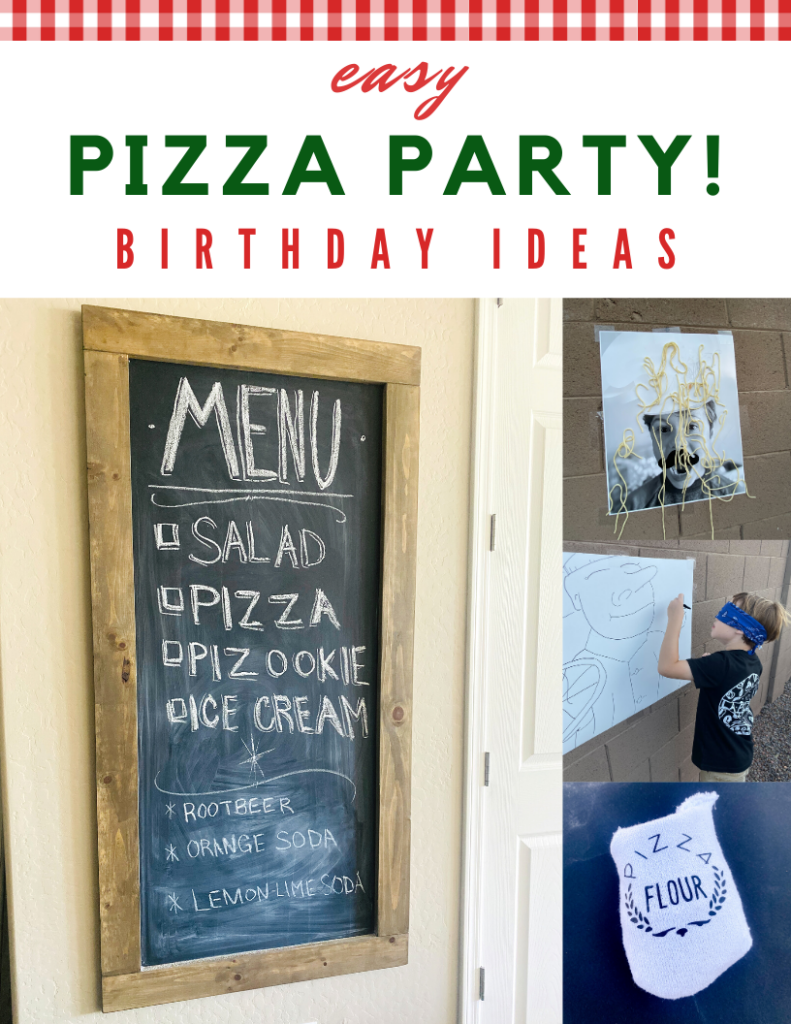 Candy Unroll Game
This game was a big hit. It took a while to unwrap and unveil the contents in this unconventional piñata. Between layers of Plastic wrap we tucked in loads of candy. We played it musical chairs style. When the music stopped you had to pass the mitts and ball to your right. Any candy that became dislodged during your turn was yours to keep. Alternatively you can have the next player roll dice and the switching happens when doubles is rolled.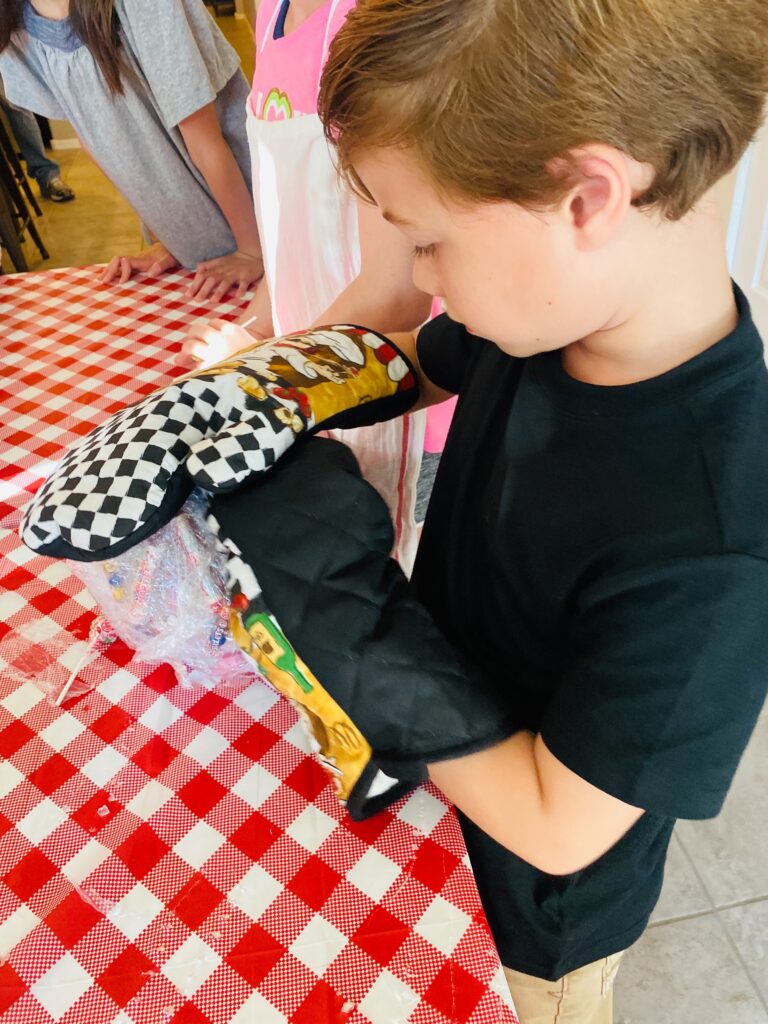 Spaghetti Toss
Nest up this hilarious game of spaghetti toss. No real winner here. The object? To throw wet spaghetti at the birthday person's face. We ordered the oversized prints at Walgreens 1-hour photo. They had a BOGO promo, so total we spent around $9 for both prints. I just took a picture on my phone, loaded into PicMonkey and added a hat and mustache sticker for fun.
Tips:
Place a plastic tablecloth under the posters. This will capture any pieces that might fall off.
Do the tossing against a building. We did it on a wall and some of these little sluggers managed to wallop it over into our neighbors yard.
Overcook the spaghetti, you want it super sticky.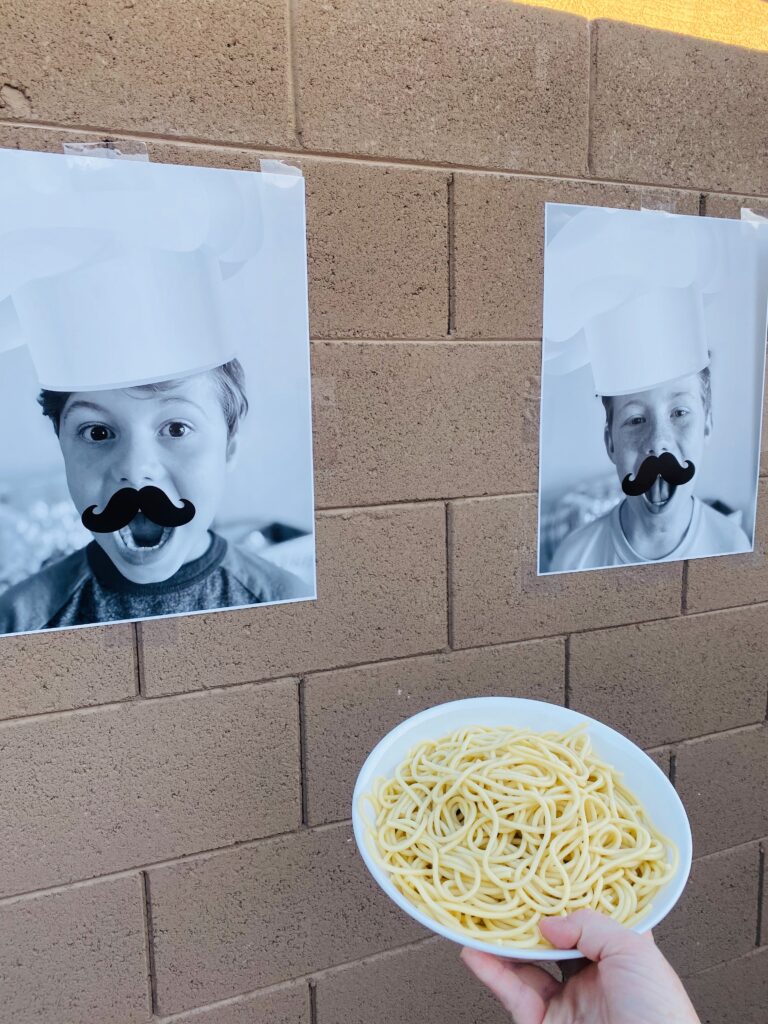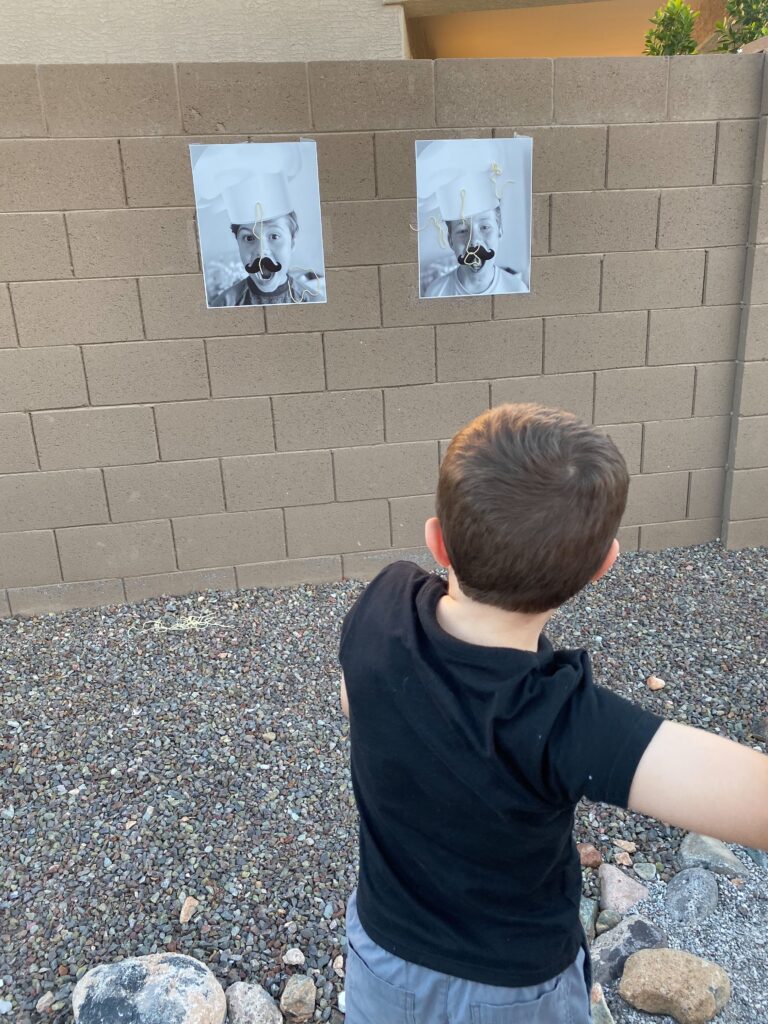 Pin the Mustache on the Pizza Chef
This one is a classic, done with a pizza parlor twist. Pin the Mustache on the Pizza Chef. All you need is a poster of a chef and sticky backed mustaches. My husband drew this guy on poster board. You can find the image here to print out large format at the copy store. Or use a projector to help trace if you're artistically challenged like myself.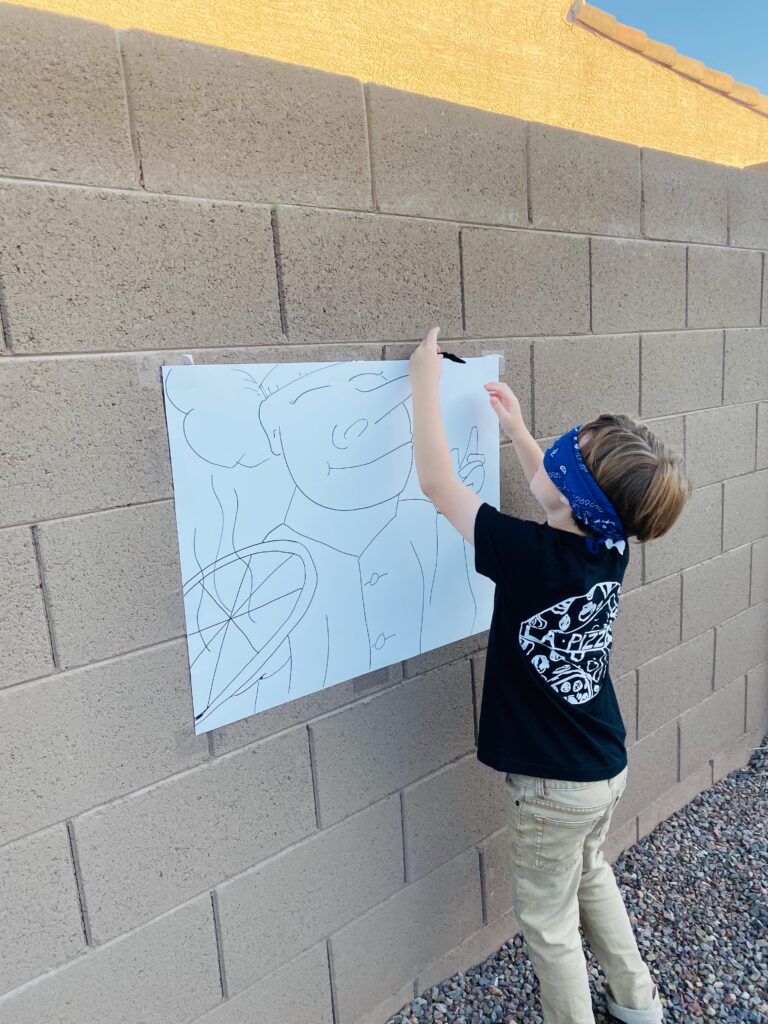 Flour Sack Toss
Another simple game using corn hole boards. Simply wrap them in craft paper to match your decor. Cut flaps around the hole so the bean bag has somewhere to go.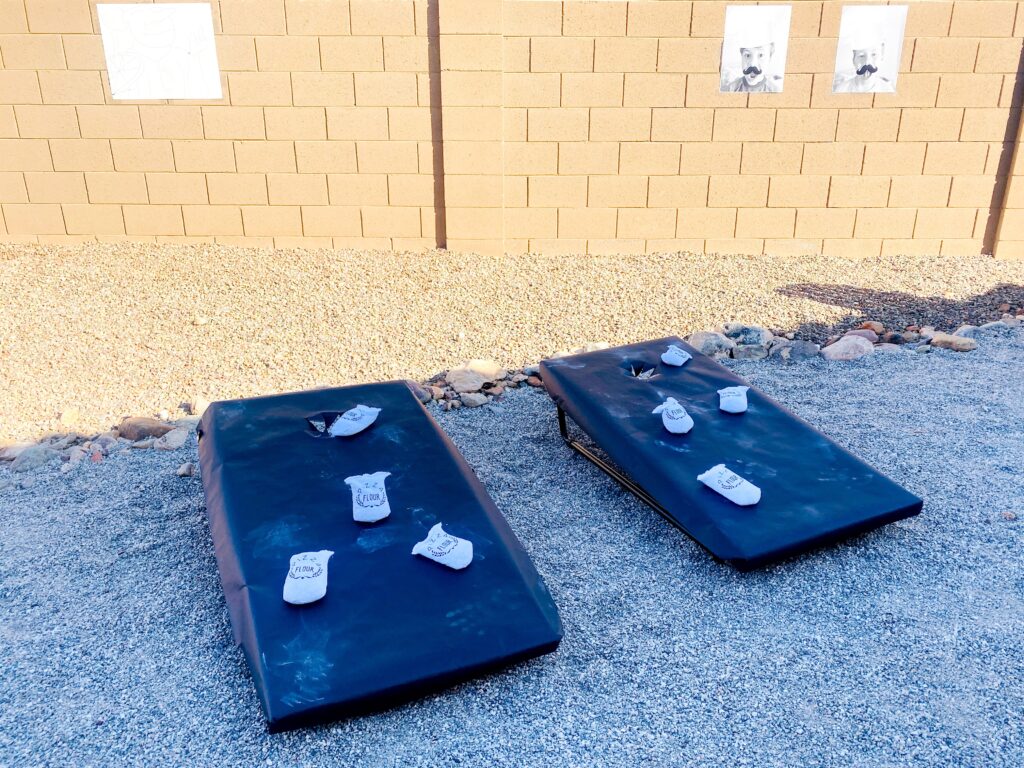 The flour sacks are just dollar store athletic socks. I cut the top off, stuffed with dried beans (also from the dollar store) then stitched across the top. To make it real extra I used my Cricut and heat transfer vinyl to make a custom decal to attach before filling the bags.