Something important is happening and it's called the Maker Movement. A term used to describe independent inventors, designers, and tinkerers. This is such an important part of childhood and our community. With the Maker Movement we are seeing more makers and less consumers. It's a happy marriage between classic building, contemporary design and technology.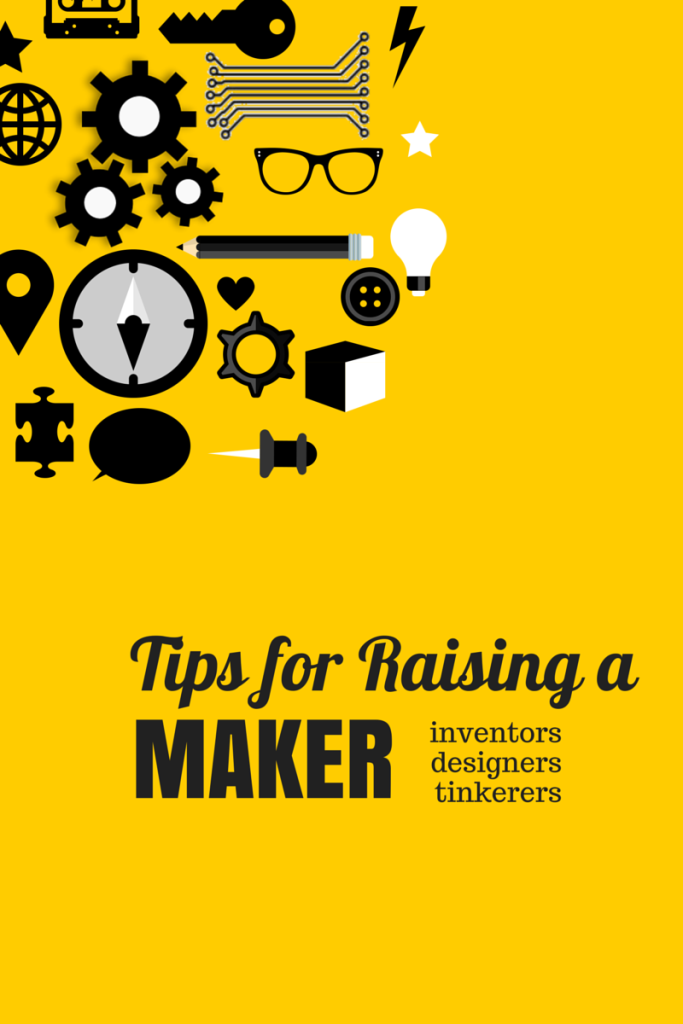 This is a generation of innovators and technology. It is so exciting to see the classic crafts combining with these new ideas. Out of the Maker Movement many events, toys, and media have been born. As a parent my question is how can I foster my child's interests and integrate this new philosophy. Here are my tips for raising a Maker.
Create a makerspace.
Supply your child with a designated area to create. Fill their makerspace with bins filled with building materials. This can be as simple as recycled materials (toilet paper rolls, boxes, cartons) and office supplies (tape, rubber bands, paper clips). Many companies are noticing this trend and beginning to manufacture and market kits and toys for the Maker community. Major retailers like Target, Amazon and Toys 'r' Us stock a large selection.
Encourage them to ask questions and find solutions.
Young minds are buzzing daily. Asking questions is a natural way children learn, and an important one. Validate your child with an answer or encourage them to set out and find the answer for themselves. This allows your child to establish the important skills of reasoning, cause & effect, and establish confidence. Then get down on the floor or at the table with them and ask them questions. Have them explain what they are doing. The best way to learn is to teach.
Engineer opportunities to create (make).
Don't wait for your child to ask questions. Utilize their maker space and setup challenges or create a grab jar of projects, like: make a machine that can pull a book, create an organic battery, or a bridge that can withstand the weight of a water bottle. For young makers create busy bags to jumpstart their reasoning and problem solving skills. For older children kits like YOXO, Snap Circuits, and Little Bits are perfect for easy project ideas. My son can spend hours on the 100+ projects in the Snap Circuit JR kit. YOXO are fantastic too. They are made from recycled material and compatible with household items. But LEGOs have been a favorite since my kids were young. With a great line of building blocks from toddler to adult. There's even the great Junior sets that offer a nice transition from the Duplo to the classic blocks. Instructables is a great site for project ideas.
Immerse them in maker culture.
Look within your own community for maker programs and events. Experience being a maker with them. There are many roaming Maker events like Maker Faire that provide great hands on experiences and a chance to see other Makers at work.
Local Phoenix Events
MACH– Space for makers, artists, crafters, hackers at the Phoenix Public Library. Find classes on coding, science and robotics at the Burton Branch.
Spark Fest at the Mesa Arts Center in March. A fantastic community event with arts and technology
Geek Fest happens annually at the Sunrise Mountain Library in March. Usually held over spring break this even brings in robotics, LEGO's, hands on experiences, and demonstrations.
These are just a few starting points, I'd love to hear how you are shaping your young maker. Share in the comments below.