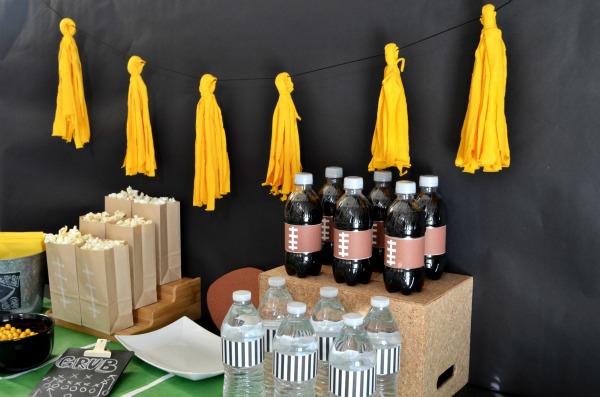 Football season might be coming to an end, but I have the perfect simple tutorial for a DIY T-shirt Tassel Garland. It's perfect for festive decor for all your home-gating parties and makes gorgeous decor for baby showers, birthday parties, or as an addition to seasonal decor. I love a great multi-purpose craft!
Supplies:
t-shirt
string/twine
scissors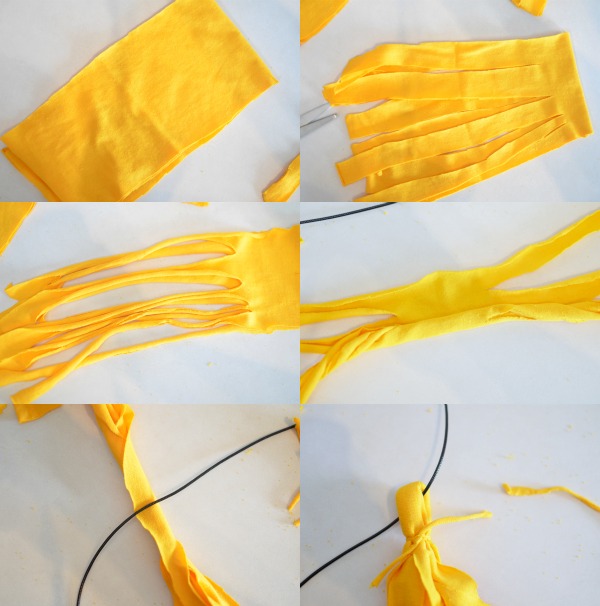 Cut the sleeves and top off the t-shirt. Cut chunks fabric the width of the t-shirt about 6″ wide.
Fold each chunk in half width wise. Cut 1″ wide strips, leaving 1″ un-cut at the top. Cut along the bottom of each strip to open it up.
Unfold and pull on each strip. This will cause them to stretch and curl up on themselves a bit.
Start on one edge and roll the chunks of fabric tightly in the middle.
Place a piece of twine in the middle of the rolled tassel. Fold in half making a loop.
Using a small piece of remnant t-shirt tie a knot at the bottom of the loop. I like my tassels to move freely so I can re-use the twine and alter the look of my garland. However, you can tie a knot around the loop to secure each tassel.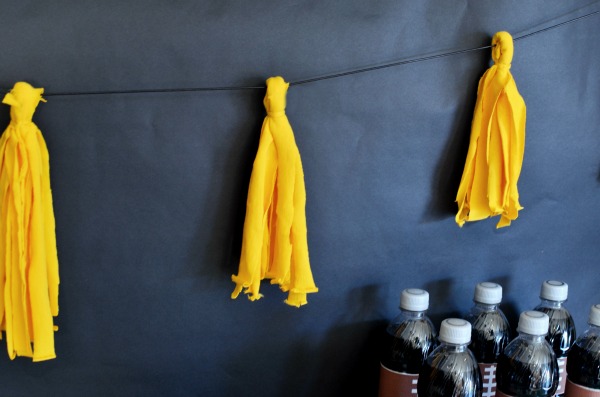 Such an easy DIY, taking just about 10 minutes depending on the size of your garland. I created this tassel garland in honor of the Super Bowl coming up; this year marks the 50th bowl, and the golden anniversary. The great thing is you can customize this to your team or event. Go with a solid tassel or mix it up with multi-colored.
Pin for later!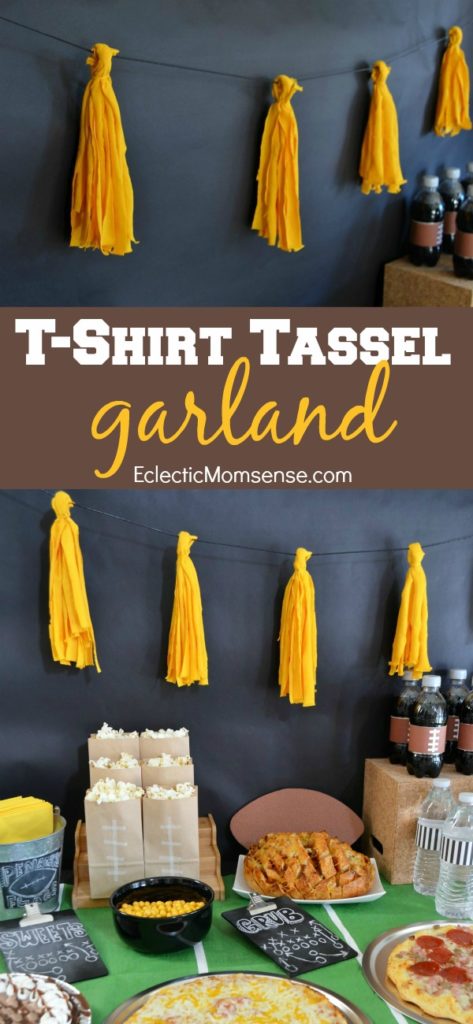 Other Game Day Ideas
Checkout these other game time ideas and make sure to come by tomorrow and Tuesday for the full party coverage and a recipe for the yummy chili cheese pull apart bread pictured.
Football Printable Bottle Wrappers
Party Mix
Football Printable Subway Art
Snack Station