This race track gift bag idea and cars watercolor print are part of a shop that has been compensated by Collective Bias, Inc. and its advertiser. All opinions are mine alone. #CelebrateAllSummer #CollectiveBias

I can't believe summer break is almost over! Seriously back-to-school shopping is already under way, but we are trying to pack in as much fun the remaining weeks of summer. This week alone we have 2 birthday parties to attend. We crafted up this fun race car watercolor print as a potential gift and a fun race track gift bag to package up all the goodies.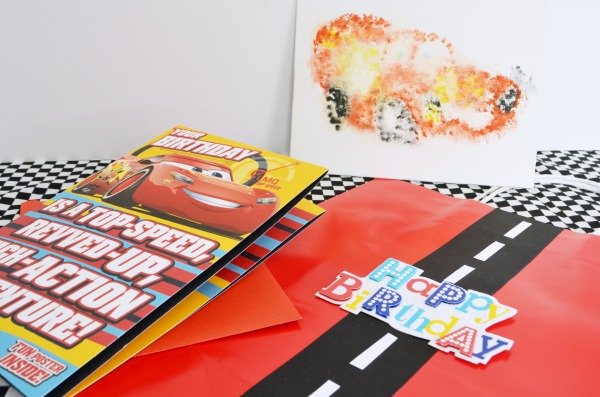 While picking up a present for our friend's party we stopped in the stationary aisle at Walmart to grab some
American Greetings
cards and gift wrap.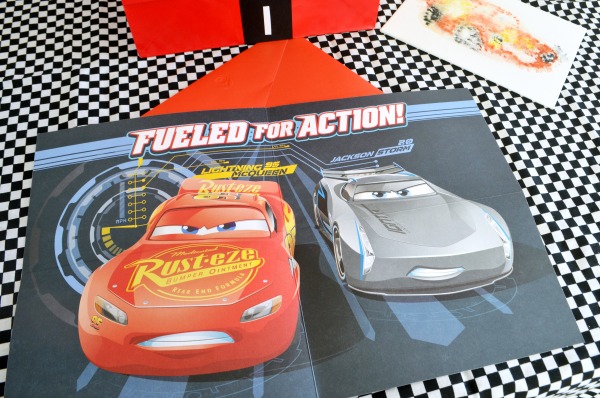 With prices starting at 47¢ it's so easy to pick up extras for random acts of cardness. I love giving cards almost as much as receiving and the huge selection of makes it easy to find just the right one for every occasion. My Walmart had two full aisles filled with gift wrap and cards, along with embellishments and stickers for personalizing packages and envelopes.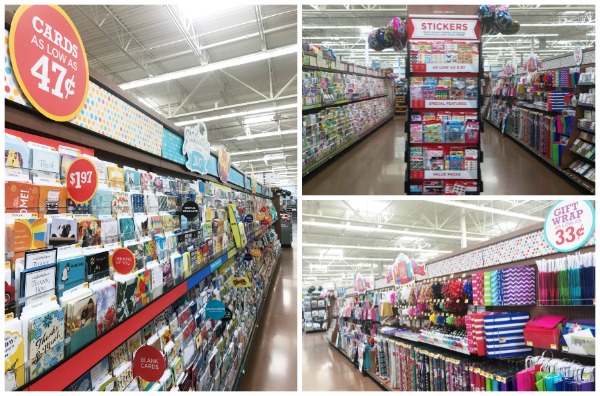 I grabbed an assortment of tissue paper, a fun happy birthday sticker embellishment, and a plain gift bag to stuff the birthday boy's gifts inside. Keep scrolling after the watercolor print tutorial for details on how to assemble the race track gift bag in just a few steps.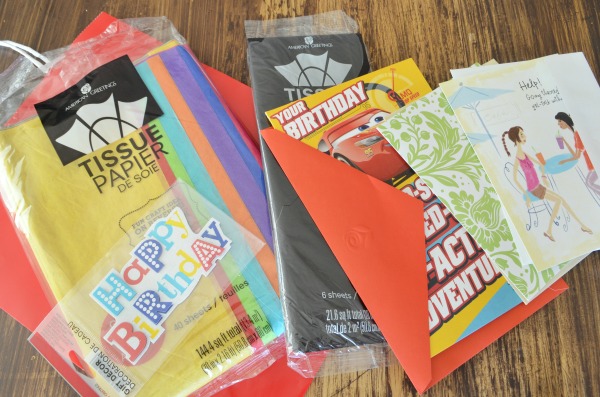 Supplies
:
freezer paper stencil
canvas
watercolors
spray bottle
Directions:
Cut out your chosen design out of freezer paper using your electronic cutting machine. Alternatively you can print directly onto the matte side of freezer paper sized to 8.5″x11″ and cut by hand.
Using an iron set to medium-low iron the prepared stencil onto the canvas. Use just enough pressure to adhere lightly to the surface. The beauty to these watercolor prints is the impressionistic quality.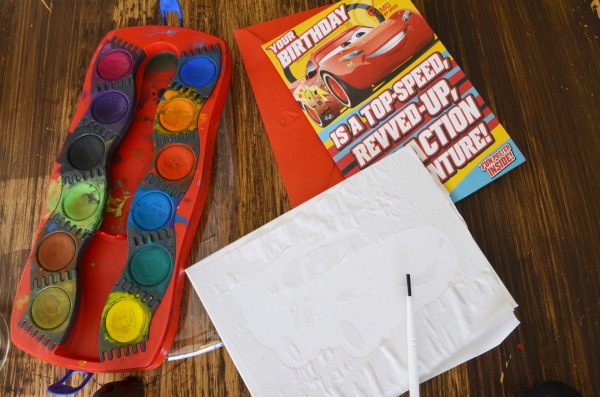 Once the canvas is prepared add your first color to the canvas. I suggest starting with darker colors first, allowing them to dry and moving to the lighter colors or more dominant colors like the red in this print. (tip: spritz the watercolors with a water bottle to moisten them lightly for a more intense color.)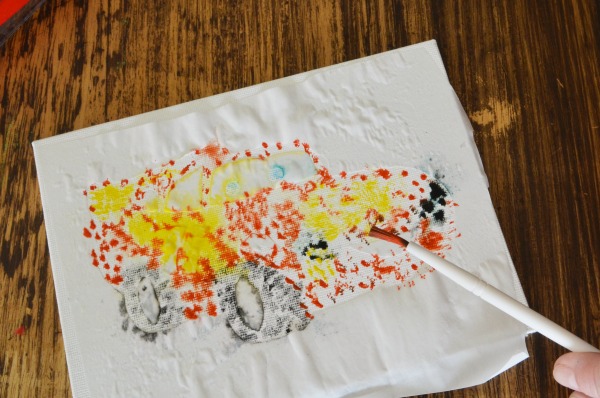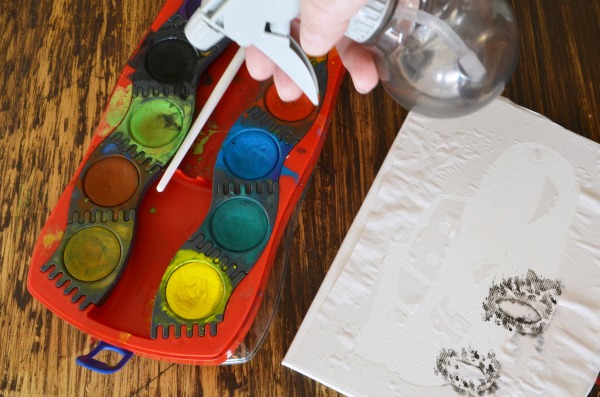 Once all your colors are laid down, spritz the surface lightly with the water bottle. Don't add to much water or it might seep under the stencil. Move the canvas around to distribute and spread the color. Allow the print to dry almost completely before removing the stencil.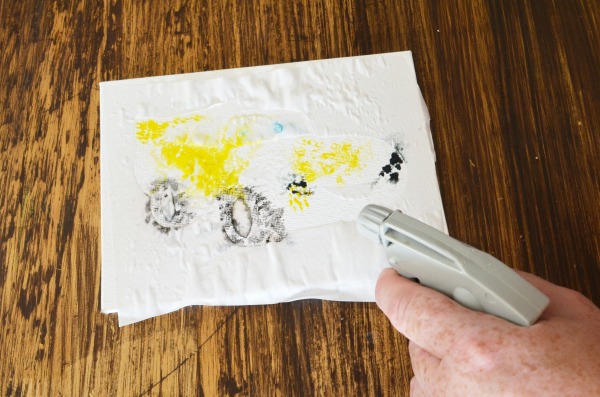 While your print dries put together this quick race track gift bag idea using an American Greetings gift bag, some black and white cardstock, and a 3D sticker embellishment.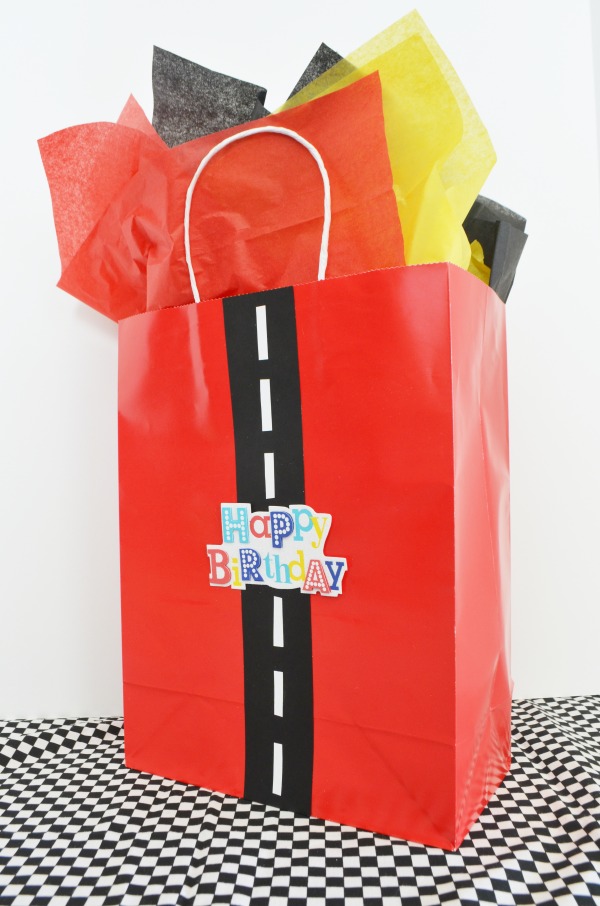 Simply cut a strip of black paper almost long enough to fit the height of the bag. Cut it to a width about 2 inches smaller than the opening of the handle, cut in half. Center each piece, then glue one to the top of the bag and one to the bottom.
Cut small strips of white paper to resemble the lane lines. Glue them at even distance along the black strips of paper. Place the happy birthday sticker over the center of the bag.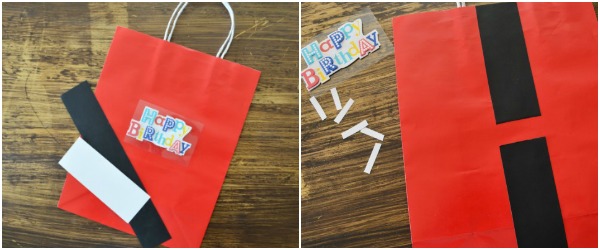 Wrap your gift in a piece of tissue paper before placing in the bag topped with a few pieces of tissue paper.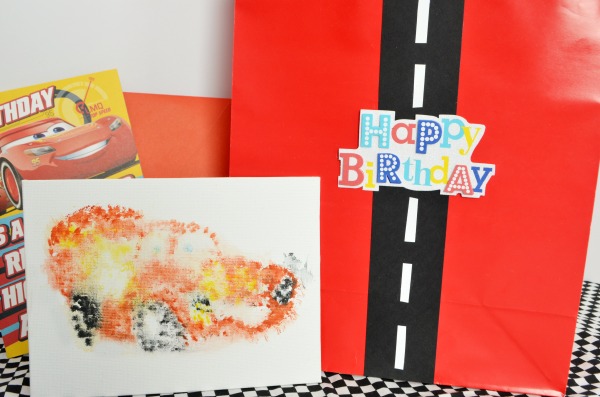 A beautiful or funny card is the perfect way to brighten someone's day and let them know you are thinking of them. I grabbed 2 cards to add to my stash for those special moments when I'm thinking of my best girlfriends. It's always a celebration when we get together. Though not as often as we'd like, a card is the perfect way to send a thought their way to hold us over until the next meeting. It's those unexpected sentiments that can often mean a lot and make an impact.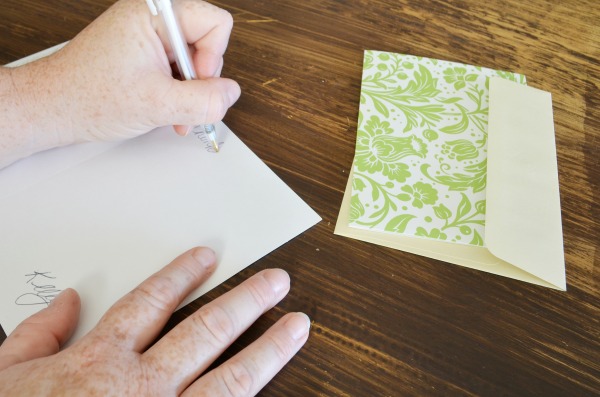 For some extra birthday fun, keep an eye open for special interactive cards like this Cars poster card we picked up. They also had fun sound enabled cards that make noise or share a special message when opened. Head on over to
SendHappyBeHappy.com
for more card giving occasion ideas.