It's taken a week of recovery, but I'm ready to share the big Art Party. We celebrated the boys 5th & 2nd birthdays with 30+ family and friends last Sunday. They are just 13 days apart (I was due on big brother's birthday) so we do a big joint party. Both boys have been big into drawing and creating crafts so we decided an art birthday would be perfect. Think lots of white with a splash of color everywhere.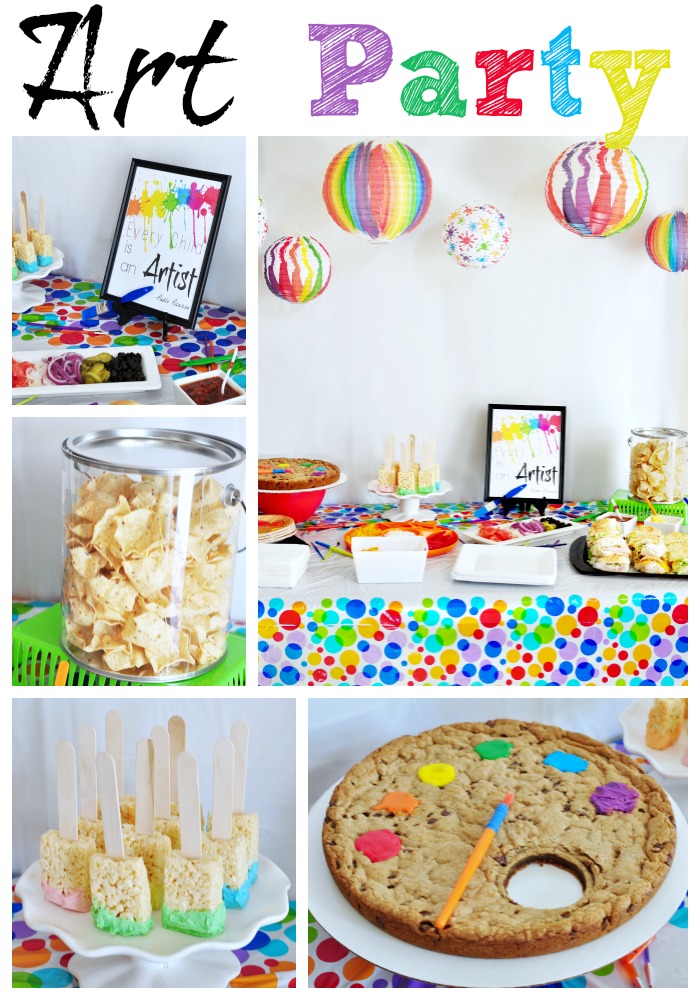 Throwing an art party is fairly simple and very budget friendly. We used white as a base canvas for everything and let the food and accent decorations add our splash of color. A plastic table cloth acted as the backdrop and another tablecloth with just a trim of fun color on the table. Fun art splattered paper lanterns added dimension against the white back drop. I used white plates, napkins, and severing plates with a few colorful accents for food. I found a fun clear paint can and scattered a huge bag of different paint brushes on the table. We used a few chalkboard painted items to add another layer of fun.
We did a mid afternoon party so we didn't have much food, but offered several small finger foods. Sandwiches were layered on a chalkboard tray. Colorful veggies were scattered on a orange tray reminiscent of a paint palette. Chips were piled high in the clear paint can. Condiments were served with a foam paint brush.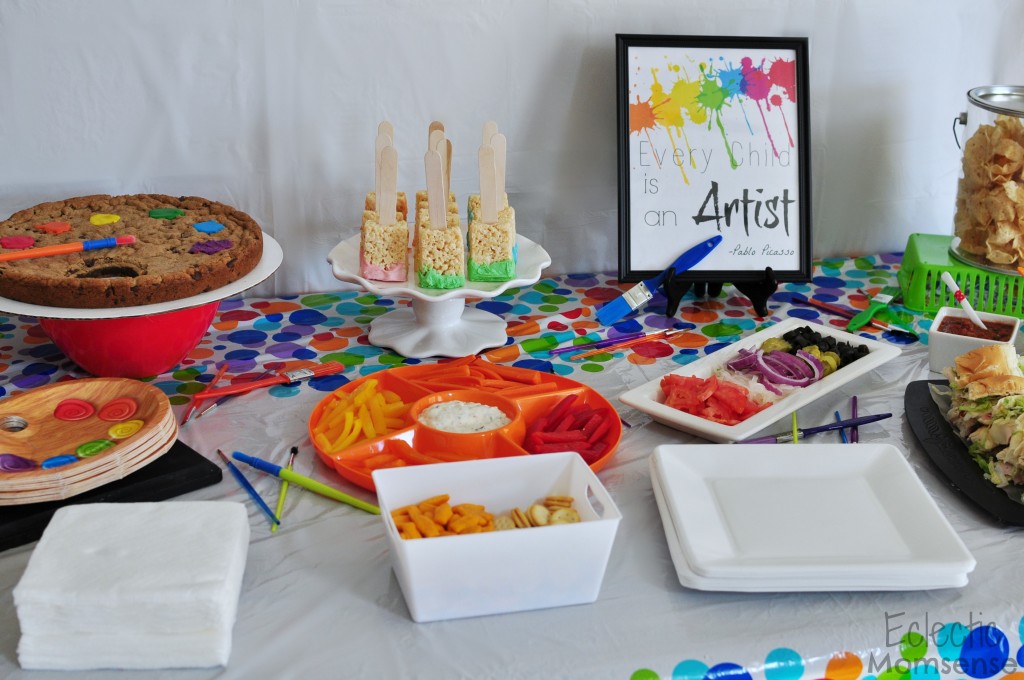 We weren't brave enough to do painting with 10 toddlers and preschoolers; instead we offered some fun alternatives. There weren't any organized games and let the kids run off their energy outside and pick what they wanted to do. There was a large art mural on the back wall. We put white
butcher paper
at kid height and gave them twistable crayons to draw on their canvas.
Twister
was laid out in the yard for them to brave. We covered a table in butcher paper and setup a spirograph center. I loved spiral art as a kid. Other than the mural I think bubble painting was a hit. The parents got to blow the bubbles while the kids caught them on their watercolor paper canvas. It was fun watching them chase the colorful bubbles all over the yard. They'd go from parent to parent trying to vary the color.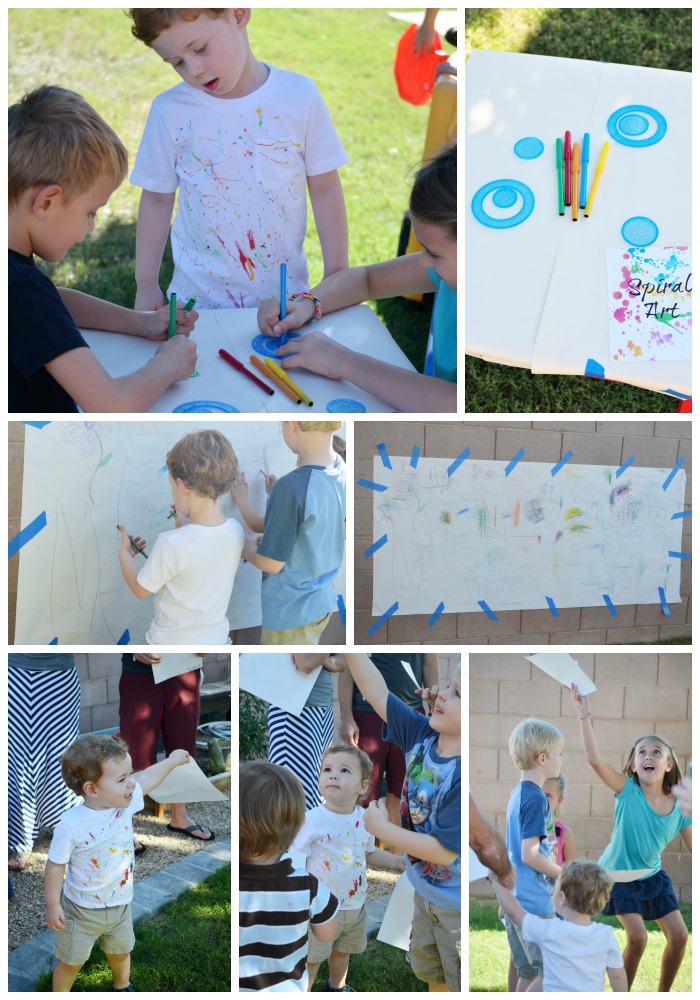 Each kid went home with their own art kit and
apron
. Oriental Trading Company sent us a nice selection for our little guests. It was hard making a decision with so many great art supplies and projects to choose from. Ultimately I decided to go with something from each art genre: painting, coloring, sculpting, and even origami. We were provided with samples, but when I started planning and doing comparison shopping they came in at and mostly below my local retailers and offered a larger selection. Most of the items cost less than a dollar and were very well made. I can't wait to use the
mini rolling pin
for our next play dough session. The
stacking crayons
were a hit too and wrote a lot like a colored pencil.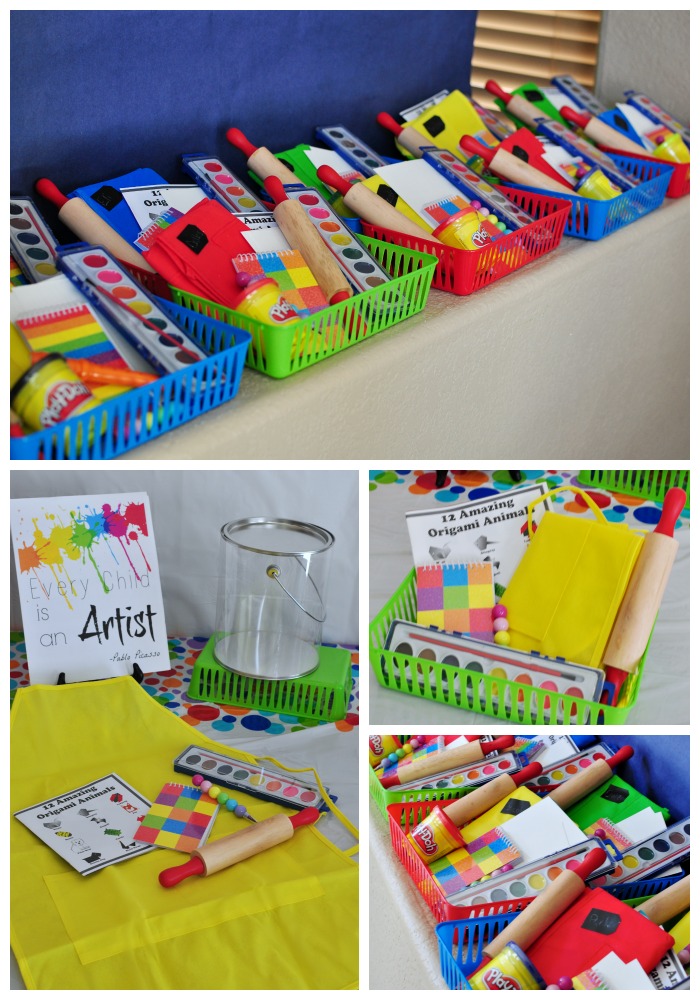 My oldest has never been a big cake fan. He like the cake portion but frosting has always been too sweet for him. For his first birthday we did a huge pumpkin cupcake for him, but since he's always asked for a giant chocolate chip cookie. Our guests seem to agree because we often never have leftovers and they were asking to cut into it early. This year I turned the giant cookie into two art palettes, one for each boy. We also had rice krispy paint brushes that were a hit too.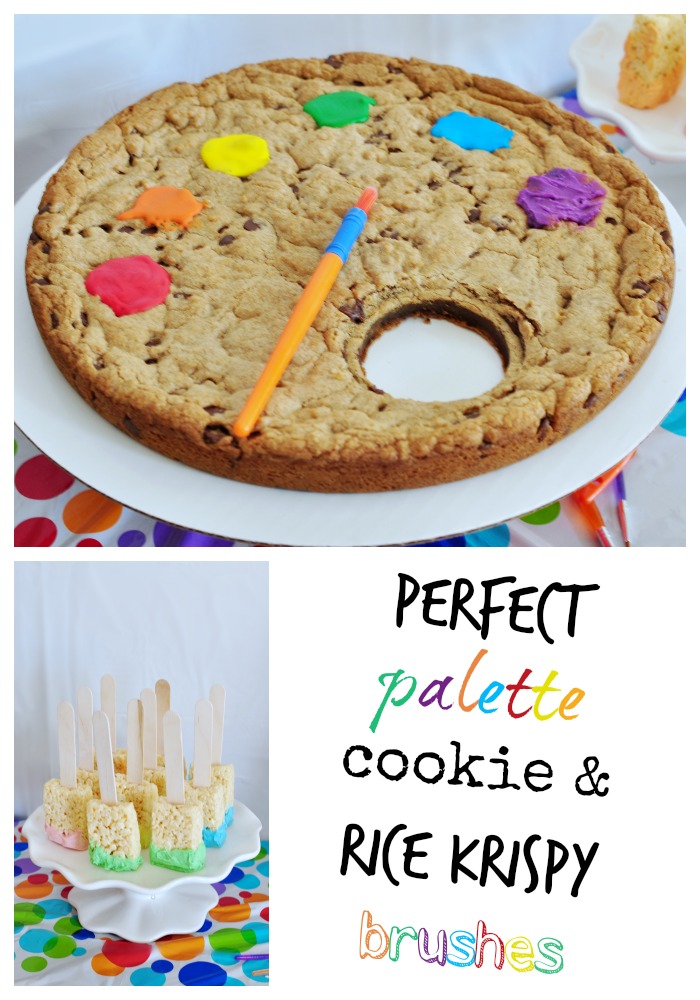 Checkout the adorable art
palette cake plates
Oriental Trading Company sent too. Many of the kids wanted to take theirs home. Hardly any of the white plates were used up. The finger hole was perfect for balancing treats and multitasking with party games.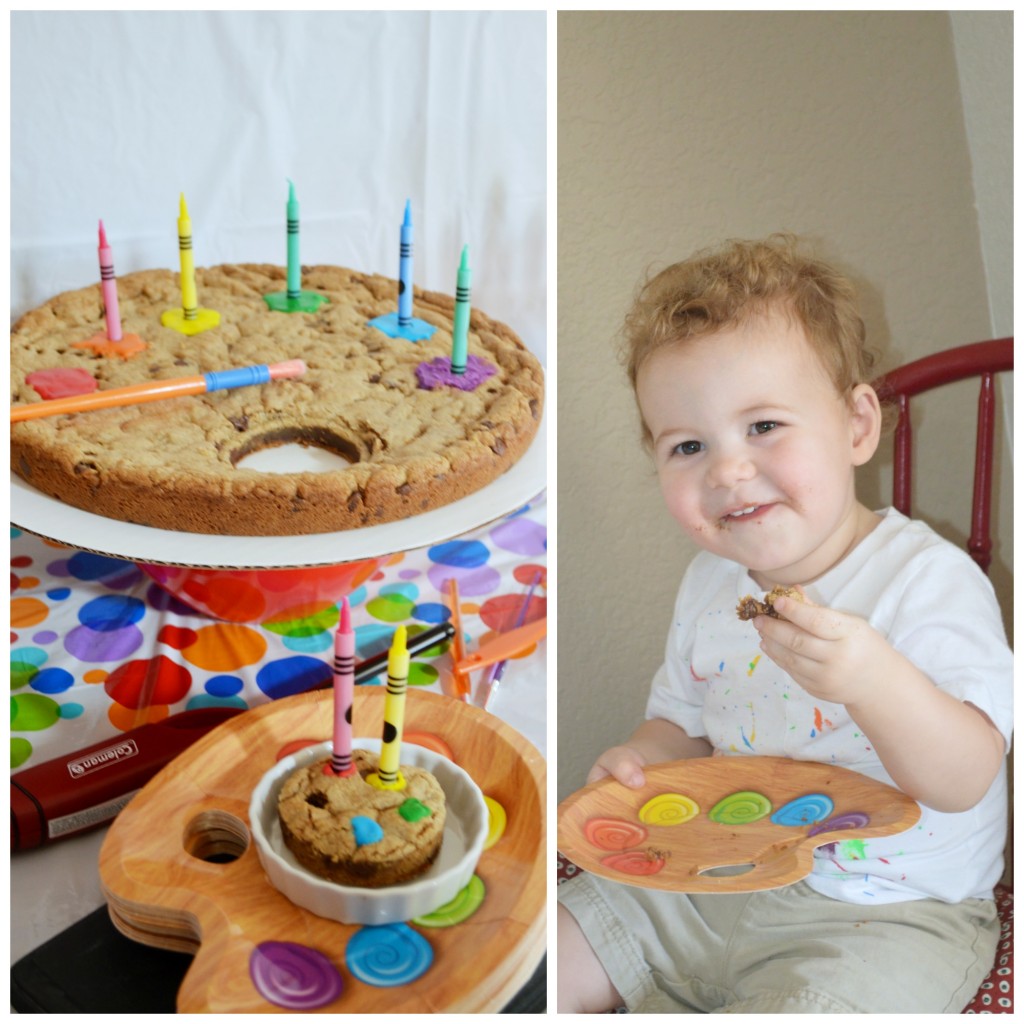 I know we won't always be able to do joint birthday parties, but for now I'm enjoying it. My big 5 year old and 2 year old are so loving to one another. I couldn't ask for any sweeter brothers.