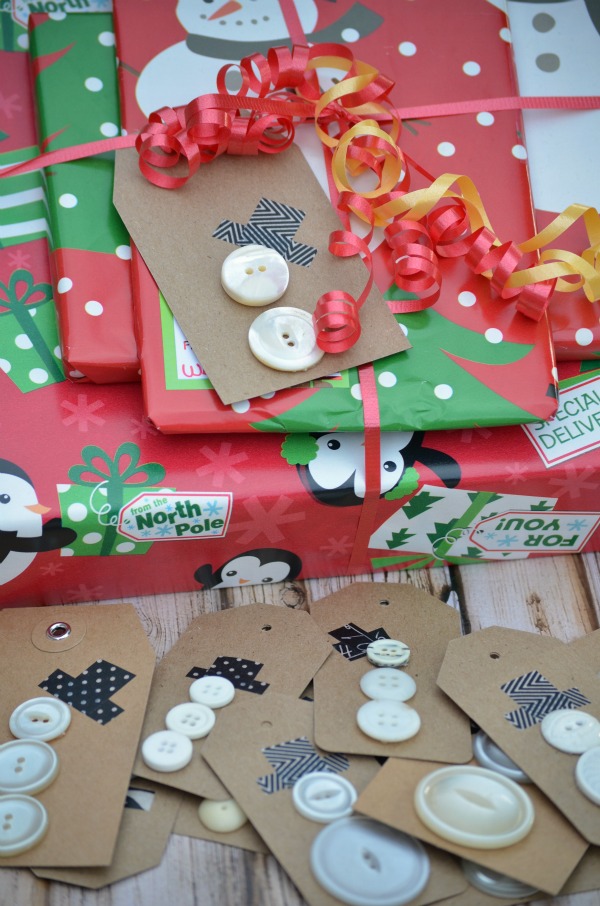 As you finish up your holiday shopping and rush to buy those last minute gifts and holiday supplies I have an easy DIY gift tag that will add that homemade feel to any package. My mother-in-law loves to get creative with the gift wrapping every year. It's fun to see year to year what new theme the gifts will take on year to year. One year instead of gift tags, every package had a picture of the gift recipient. Last year I believe it was craft paper and chalkboard labels, and the year before was a red and white theme with all kinds of fuzzy and sparkly bows. This year she decided to get crafty and make these button snowman gift tags. With the exception of the washi tape hat suggestion I had no hand in creating these fun gift tags.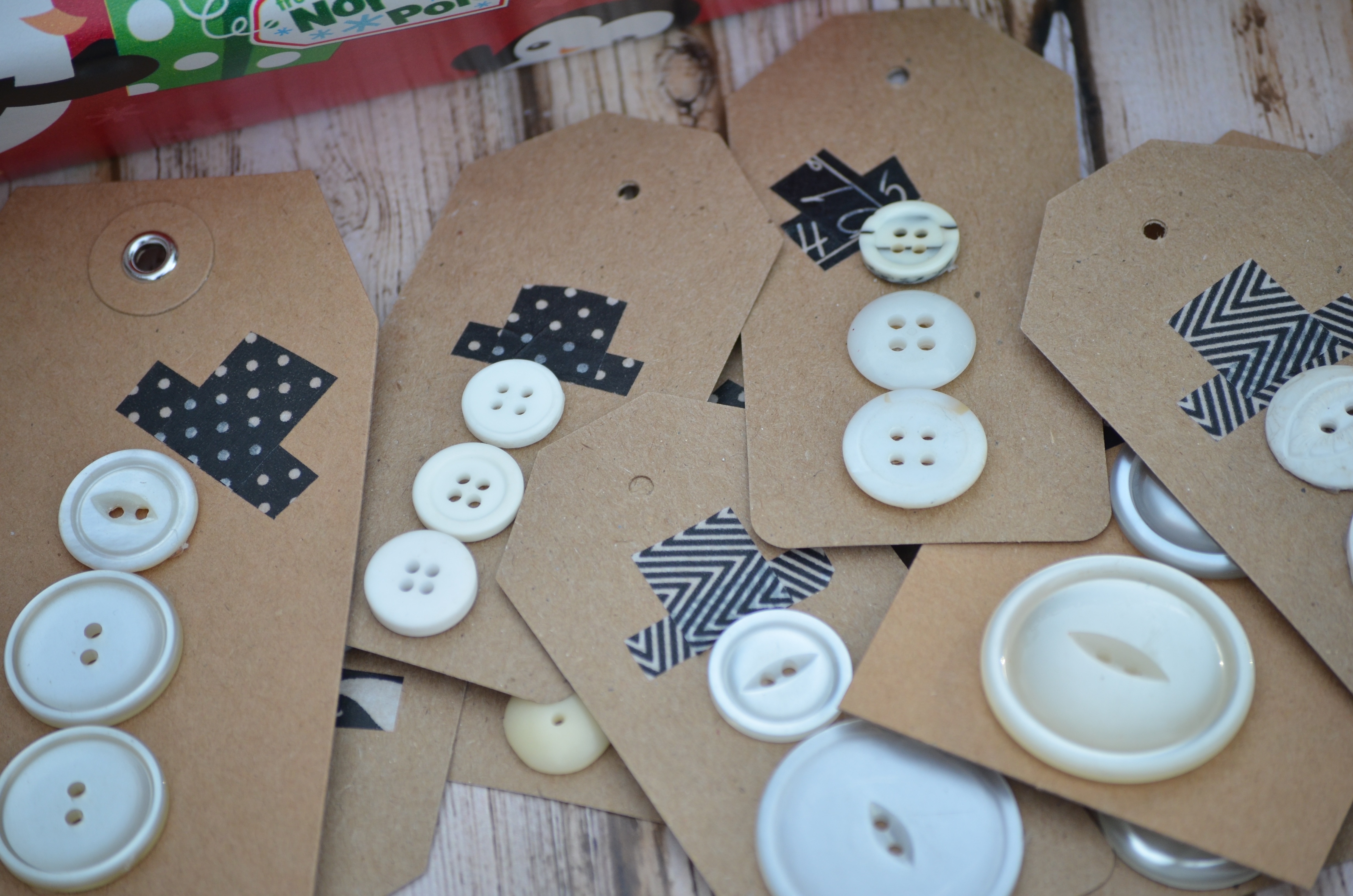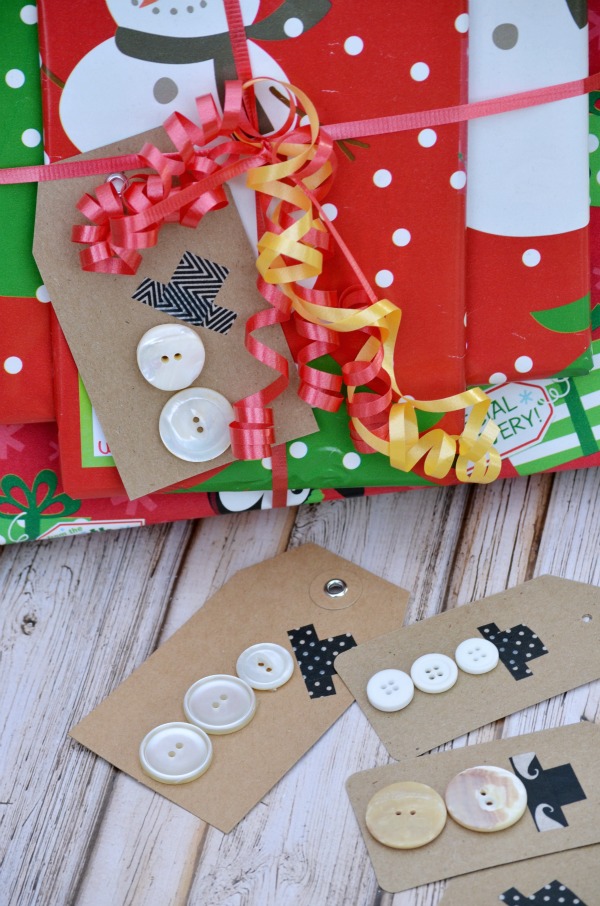 Each one was made by hand in just seconds and would be a perfect ornament for next Christmas. You could easily purchase white buttons from the craft store, use some from your stash, or find a collection at a thrift store. She employed the help of family and some of the buttons used are many decades old, making it even more of a keepsake. Keeping with this years holiday craft theme of easy and only a couple supplies this craft pulls together with just glue, buttons, tape, and blank gift tags.
Supplies:
blank gift tags
white buttons
black Washi tape
hot glue
Directions:
Select 3 buttons of varying sizes. Stack the buttons with a little hot glue bottom to top, smallest to largest. This will ensure you will have enough room at the top for Frosty's old silk hat. Cut or tear two pieces of black tape. One should be just a tad bit longer. Place the tape above the smallest button in an inverted "T'. And there you have it, a snowman gift tag in just 2 steps!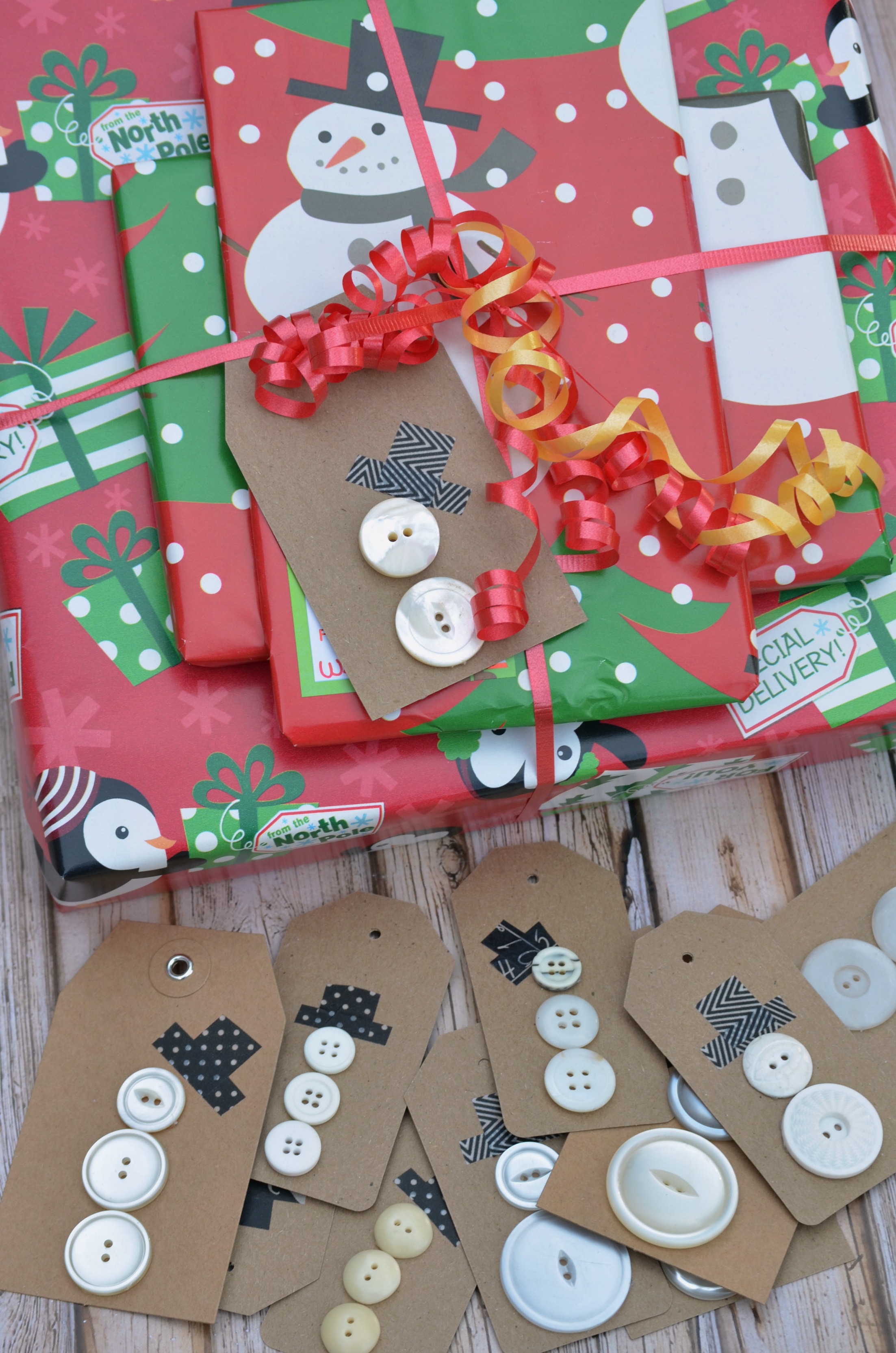 Do you have any special gift wrapping traditions? I'd love to hear them in the comments below.
Love these Button Snowman Gift Tags? Try these posts for more easy and creative holiday inspiration. And if you need some ideas for the crafter in your life try my Ultimate Gift Guide for Crafters.
Snowman Wreath
Ribbon Tree Christmas Cards
Washi Tape Christmas Cards
Star Wars Ornaments
Thread Spool Ornament
Holiday House Shadow Box