This post is part of a sponsored campaign with MomSelect. All thoughts and opinions are my own.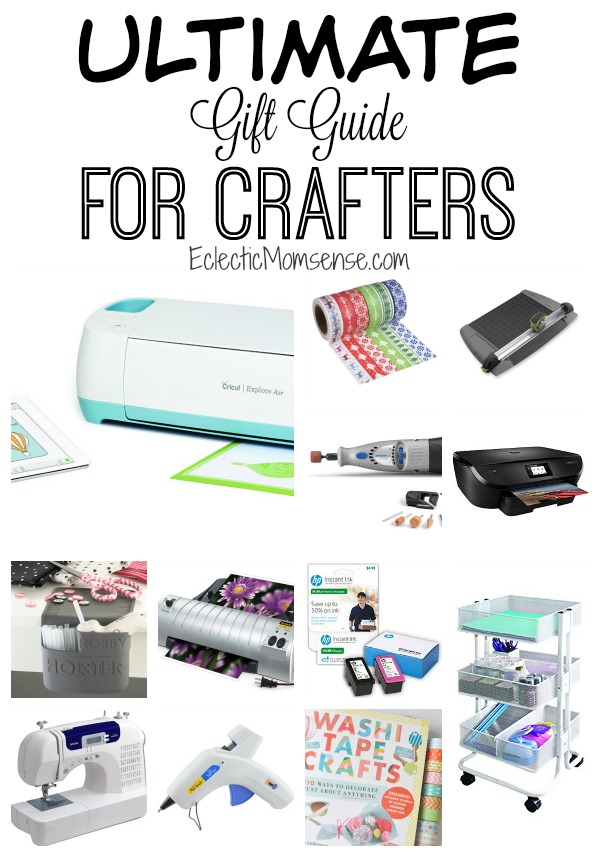 It's a miracle this year I'm done with all my shopping and in a couple days everything will be wrapped too! woot, woot. This is officially the first year that has ever happened. If you are more like my normal shopping self there is always a few of those hard to buy for gift recipients, often eeking in right at the last moment. With a couple holiday shopping weeks left I've got the solution for all the crafters in your life. From big tickets items to smaller accessories perfect for stuffing in a stocking, this ultimate gift guide for crafters will help you tick a few more people off your list. The only trick is determining their interests or specialtly.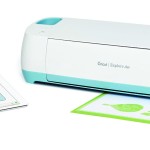 Electronic Cutter– This is a must have craft supply. So versatile it can cut a variety of materials, making it perfect for paper crafters and sewers too. The newest addition to the Cricut line of electronic cutters, the Explore now comes equipped with wifi and the ability to cut your own images.
vinyl– A great accessory for electronic cutters, vinyl is a quick and easy way to dress up walls and home decor. Vinyl sticks and easily removes from most surfaces, making it the ultimate DIY supply.
sewing machine – Sewing machines are so advanced and cost effective. Digital machines come with a wealth of stitches and setup easily for even the novice sewer. Crafters are finding new uses for machines, even sewing paper!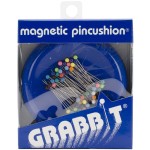 magnetic pin cushion– Keep unruly pins where they are needed, right at hand for the next sewing project. This is a great inexpensive item, a perfect stocking stuffer!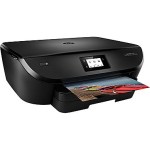 printer– Another essential crafting item, a printer can work with a Cricut Explore to create custom printables to be cut. The HP Envy 5540 has a convenient photo paper tray as well as being a WiFi for wireless printing. Right now the HP Envy 5540 e-All-in-One printer comes with 3 months Instant Ink free! It's the perfect compact all-in-one printer for printing, scanning and copying.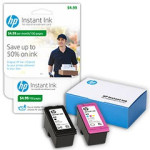 instant ink– This is the perfect low-cost add on for crafters and families. HP Instant Ink takes away the stress of purchasing ink on the fly. No more decisions of what to print, conserving color, or making late night ink runs. Instant ink arrives at your door right when you need it. The cost of ink and shipping is included in the subscription.
Plus, now until December 31st, when you enroll a printer in HP Instant Ink, get six months of ink for free! Find out more on enrollment and decide which plan is just right here.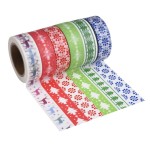 Washi tape– Starting at just cents, washi tape is an awesome add-on or stocking stuffer. Coming in thousands of colors, textures, and sizes Washi is perfect for a multitude of crafts and DIY projects.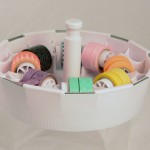 Washi tape dispenser– Once your crafter starts collecting Washi tape they'll need a place to keep it all. This dispenser can hold a small stash easily.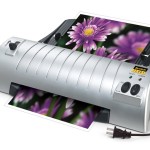 laminator– Not only for crafting, a laminator is great for home-schoolers and families too. Compact, inexpensive, and a variety of laminating sheet sizes it's one of those craft supplies that's great to have in the backup arsenal.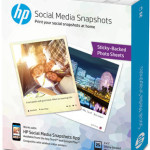 photo sticker paper– Another great supply that's nice to have on hand for crafts, home, and school. Easily print out photos or pictures for cards and projects. Last minute school projects are no match with photo sticker paper. Throw together a science project or book report easily. Customize your fridge with DIY magnets and photo sticker paper.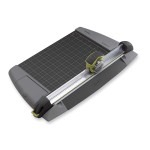 rotary paper trimmer– This one is at the top of my list. 😉 Great for scrapbookers, paper crafters, and home projects. Makes cutting multiple layers of paper and photos a breeze.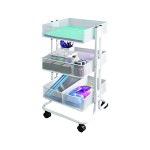 crafting cart– The downside to a large craft stash is finding a place to keep it. This stylish cart will keep craft supplies close at hand, making it easier to find inspiration and create.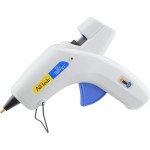 glue gun– No more cords tying the glue gun and craft spaces to the wall. A wireless, multi temp glue gun is the perfect do it all glue gun.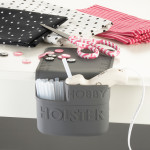 glue gun holster– This holster keeps glue guns stored safely and easily on hand. The silicone structure allows it to "stick" where you need it and easily catches hot glue drips.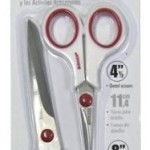 scissors– A good pair of scissors is essential to any type of craft. Small scissors are great for detailing, fabric scissors for cutting like butter (don't touch the fabric scissors), and a standard scissor for everyday projects.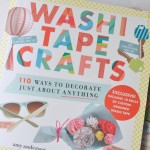 craft book- In the age of amazing craft blogs we sometimes forget how great it is to hold a book. Here are two fantastic books highlight popular trends in crafts.
Washi Tape Crafts– Amy Anderson has created a wonderful how-to book featuring 110 crafts that use washi tape. Easily create gifts for the holidays or upcycle everyday items into something amazing.
multi tool– Great for cutting and detailing a variety of materials.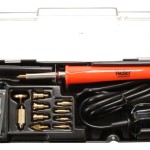 wood burning tool– A fun tool for small wood crafts. Perfect for adding personalization to frames, ornaments, or furniture. Helps a crafter add that extra special touch.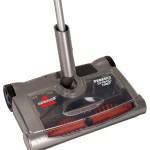 floor sweeper, or better yet a Roomba.- Yes I just suggested you buy a vacuum for a gift. Maybe better for a joint you and me gift, a Roomba keeps the house clean saving more time for crafting. A compact electric floor sweeper is great for everyday messes and cleaning up glitter, paper scraps, thread, and fabric off the floor.
cutting mat- One with a variety of measurements and standard photo sizing is perfect for scrapbookers and paper crafters.