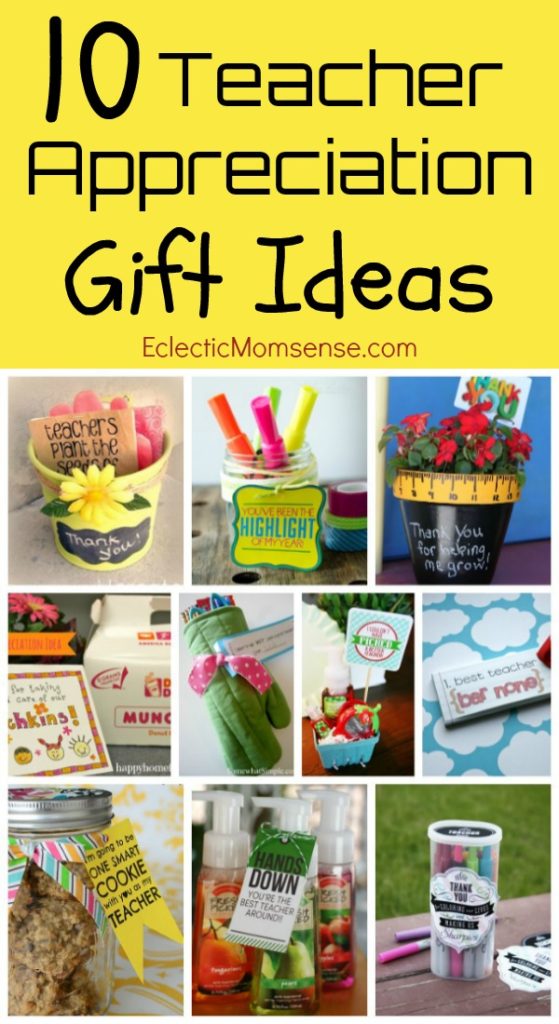 In just a month we'll be closing the door on my son's first school year. He's only been attending for about a month now, but his teacher has made an impact on him and our family. He can't wait to head off to school as soon as he wakes each morning and is quite disappointed Friday morning when he wakes up and discovers there's no school. I've worn the teacher shoes and I'm so excited this year I get to be on the giving end and appreciate his teacher. Teacher Appreciation day is May 6th, but you can celebrate all week with these great gift ideas.
Thanks for Helping Me Grow- Giggles Galore
I Couldn't Have Picked a Better Picture- Eighteen25
Thanks for Coloring Our Lives & Making Us Sharp- Design Wash Rinse Repeat
Best Teacher Bar None- Domesticated Lady
Teachers Plant the Seeds of Knowledge- U-Create Crafts
Hands Down You're the Best Teacher- Eighteen25
Have to ad"mitt" Your a Great Teacher- Skip to My Lou
Highlight of My Year- Love-the-Day
One Smart Cookie- It's Overflowing
Munchkins- Happy Home Fairy
Even better, personalize the gift with their favorite things. I stole this idea from my husband's PTO and made a fun printable to hand out to all his teachers. Checkout the list below the questionnaire for more fun sayings to pair with your gift. It doesn't have to be expensive or extravagant. A little thought makes a teacher feel appreciated. My hubs has been gifted all week with his favorite candy bar. Personalized, inexpensive, and so thoughtful.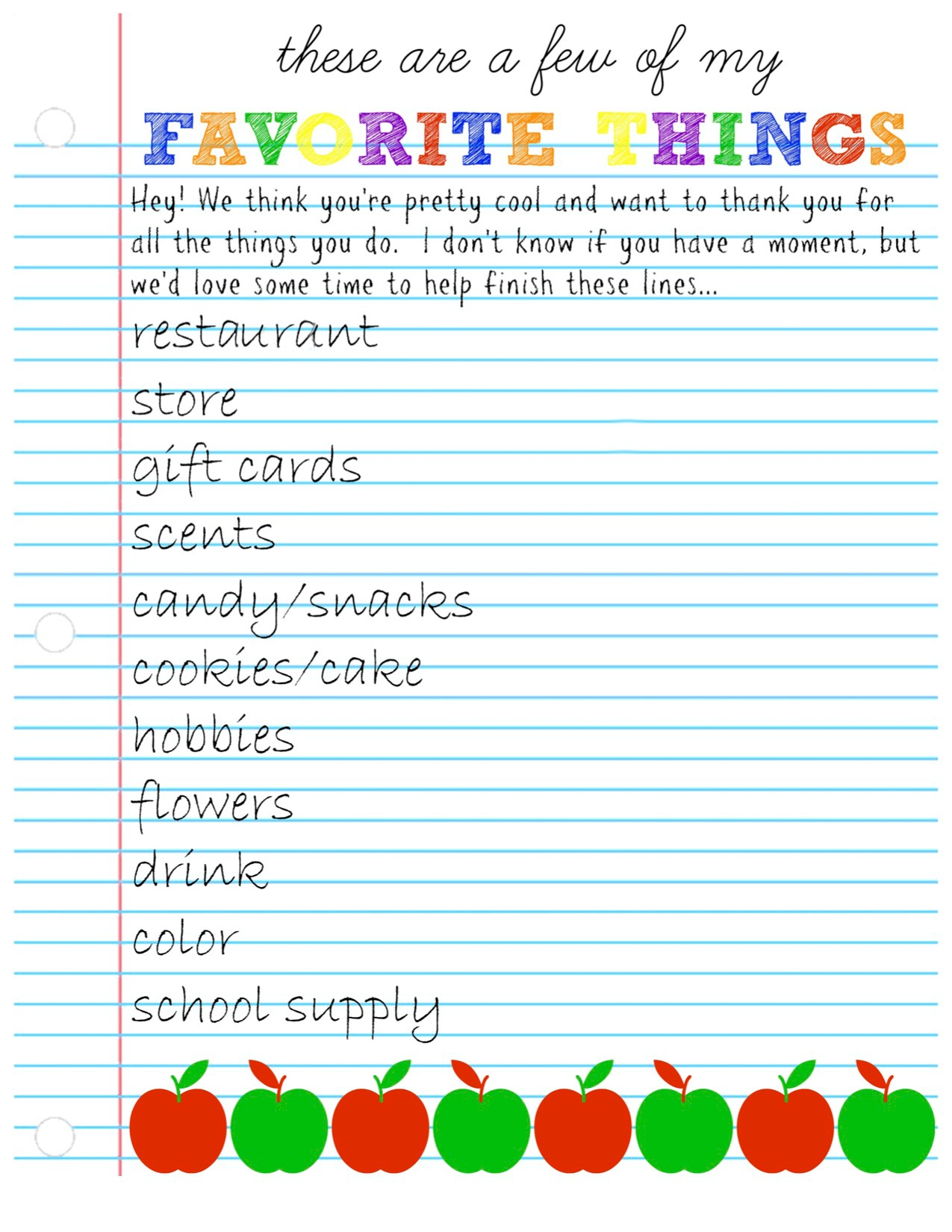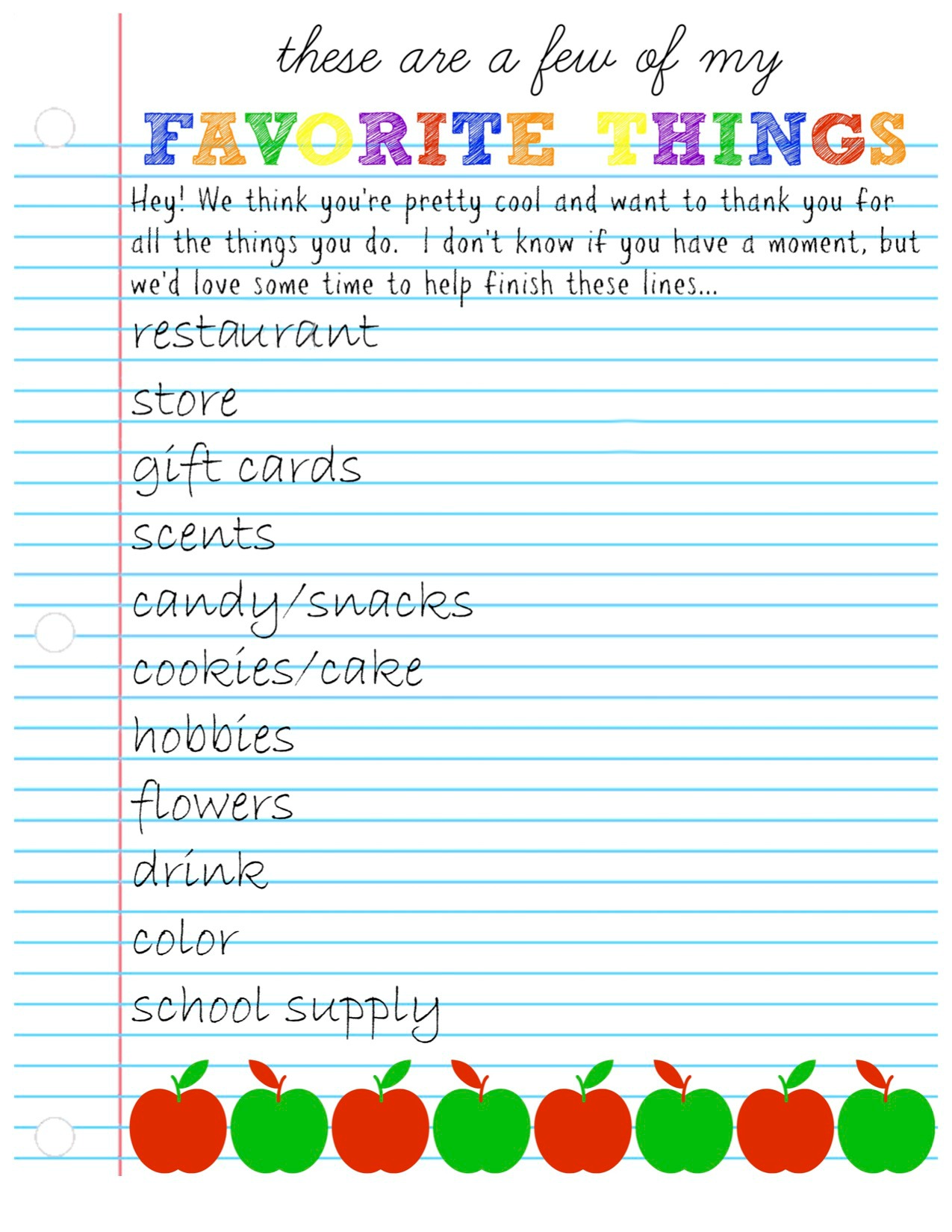 "You are out of this world" with a Milky Way or Mars bar
"You deserve an extra payday!" attached to a Payday
"Thanks for the 'time' you spend with ___" attached to a cute desktop clock or appointment book
"You have been just 'write' for ____!" package of favorite writing utensils
"There is no 'sub'stitute for you!" attached with a sub shop gift card
"You are 'extra' special" with a pack of Extra Gum
"You are 'tea'rrific!" with a tea cup and selection of teas
"Thanks for a 'picture' perfect year" with movie tickets
"Thanks for helping ____ 'bloom'" with a bouquet of flowers
"We appreciate the 'mounds' of work you do!" attached to a Mounds bar
"Thanks a 'latte'!" with gift card from coffee shop
"You are o'fish'ally the best!" attached to Sweedish fish or Goldfish Crackers
"Thanks for lighting the way" with a nice candle
"You rock!" with decorated rock paperweight
"You have been 'key' to ____ success!" tag attached to a fun homemade key ring
"Here is a 'pat' on the back for doing such a great job!" attached to a massage gift certificate