This shop has been compensated by Collective Bias, Inc. and its advertiser. All opinions are mine alone. #SuperAbsorbent #CollectiveBias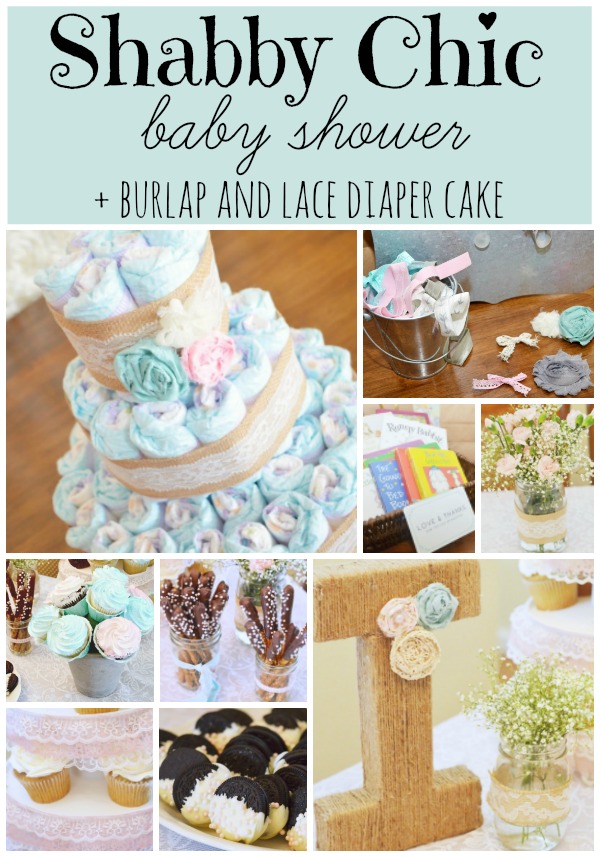 To date one of my favorite party themes is this super fabulous shabby chic baby shower I helped host for my sister-in-law. It's all boys over here so I couldn't wait to dive in and craft with lace, pearls, and pinks. Come check out this fun baby shower theme along with a tutorial (and all my tips) for a vintage lace and burlap diaper cake with
Huggies® Newborn Diaper Packs
at Costco.com.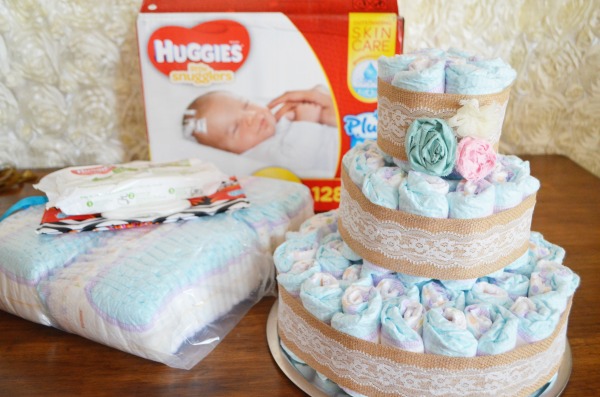 Decor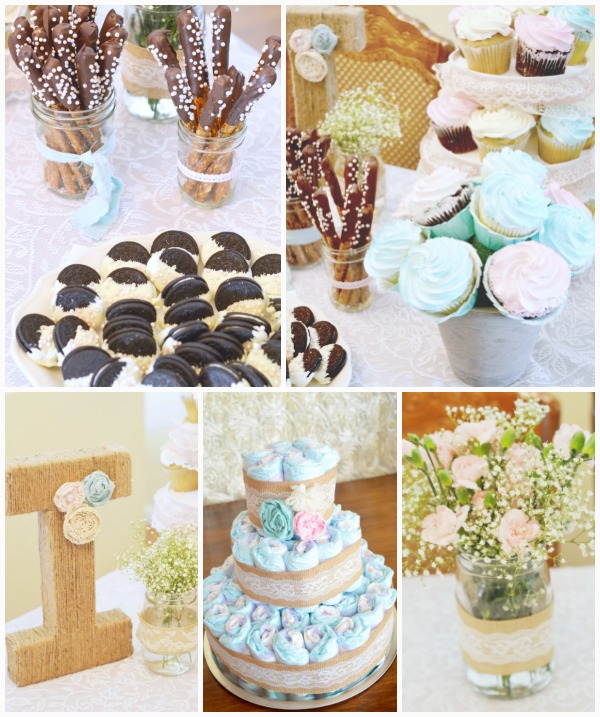 As with most of my parties I like to create decor that is functional. Everything in this vintage inspired girl's baby shower is multi-functional and many of the craft items ended up in her adorable nursery. I started with scouring everywhere for a variety of lace, burlap, fabric, and pearl accents. These became the basis for decor, including the handmade fabric and cotton lace rosettes that adorn the diaper cake and monogram.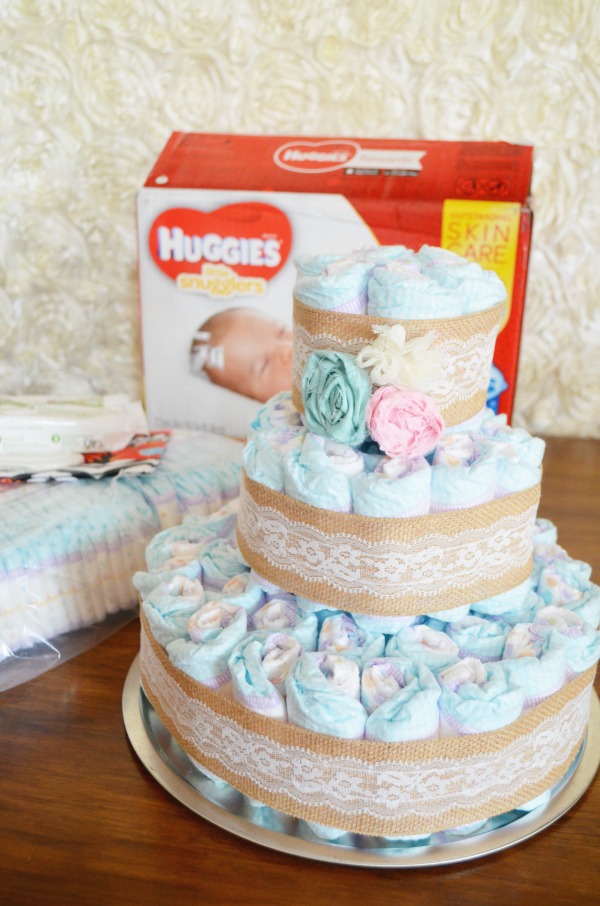 The gift table was adorned with a custom rag garland I created with scraps of lace, fabric, and tule.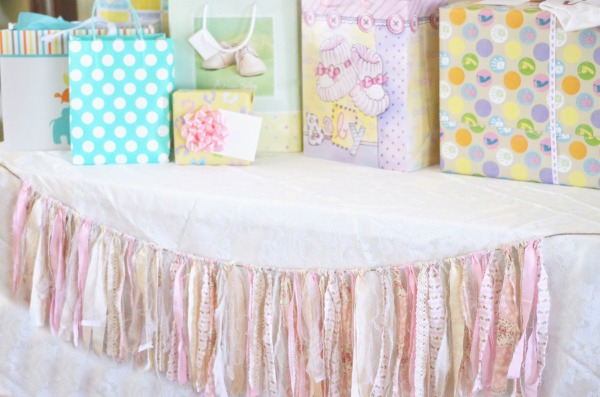 Food
Food was kept simple with croissant sandwiches fitting for an afternoon tea. Along with veggies and chips for dipping we served up a variety of beautiful treats. The cupcakes came from our favorite local bakery and were transformed into a cupcake bouquet using lollipop sticks, a flower pot, floral foam, and green decorative cupcake liners. The remaining cupcakes were stacked onto a dessert tower I embellished with layered rose ombre lace. Chocolate cookie sandwiches and jumbo pretzels were dipped into white and dark chocolate then sprinkled with candy pearls.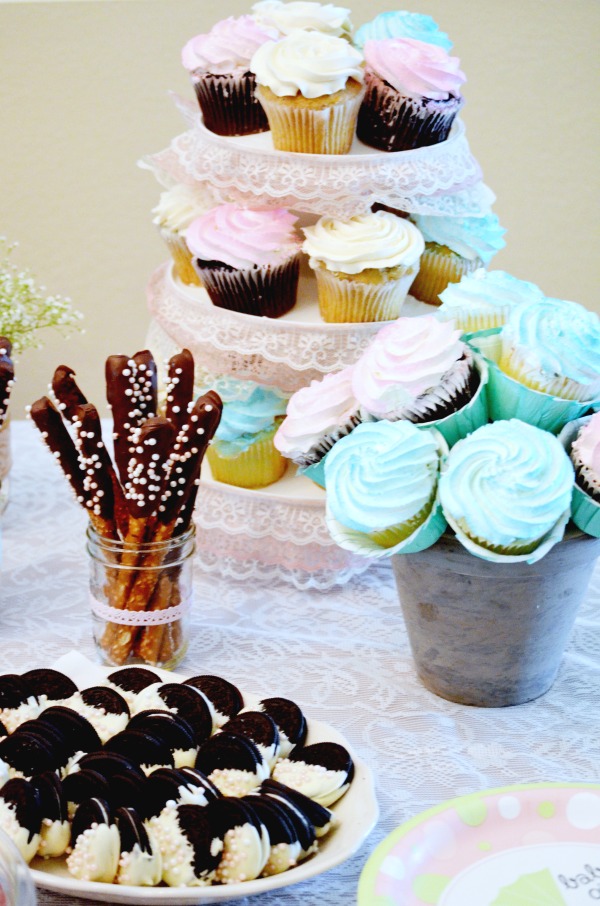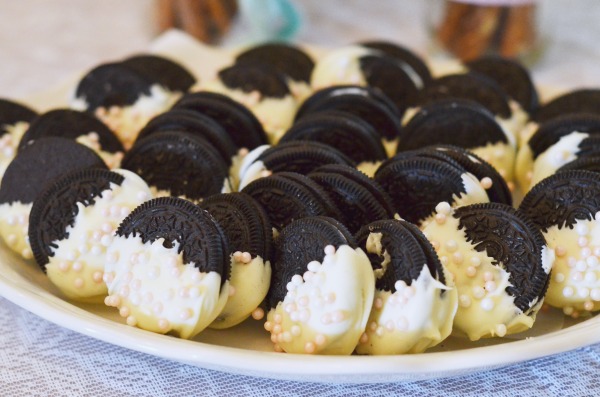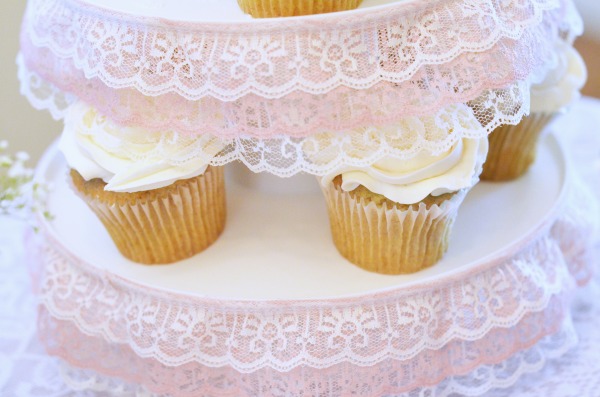 Gifts
To house the gorgeous lace and burlap diaper cake, I'm going to show you how to make, I created a new gift table setup. I love the idea of incorporating things like a book request, and headband making station into the event. Guests can leave a little bit of handmade love and literature for the new baby.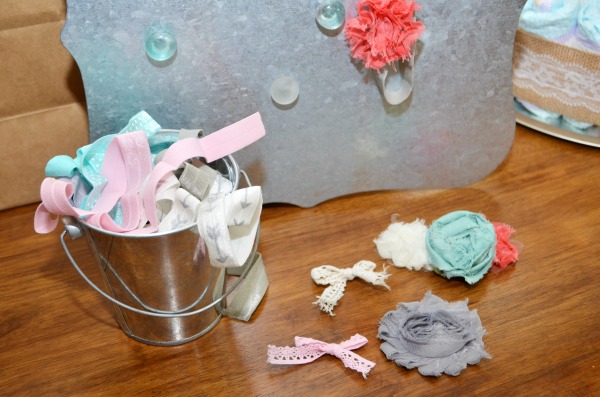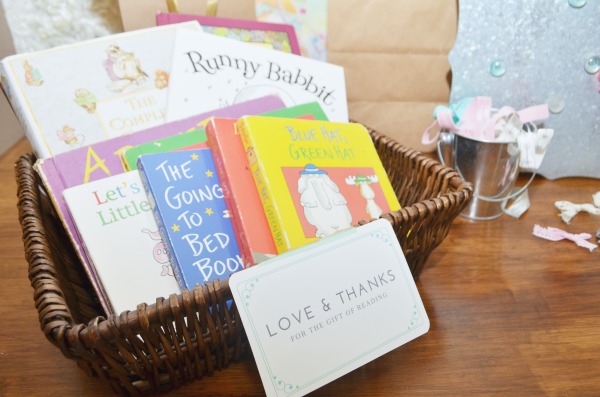 Now for the diaper cake. This is the first classic diaper cake I've created and it took me less than 30 minutes to assemble. With a few helping hands to help roll diapers and stuff it was pretty easy.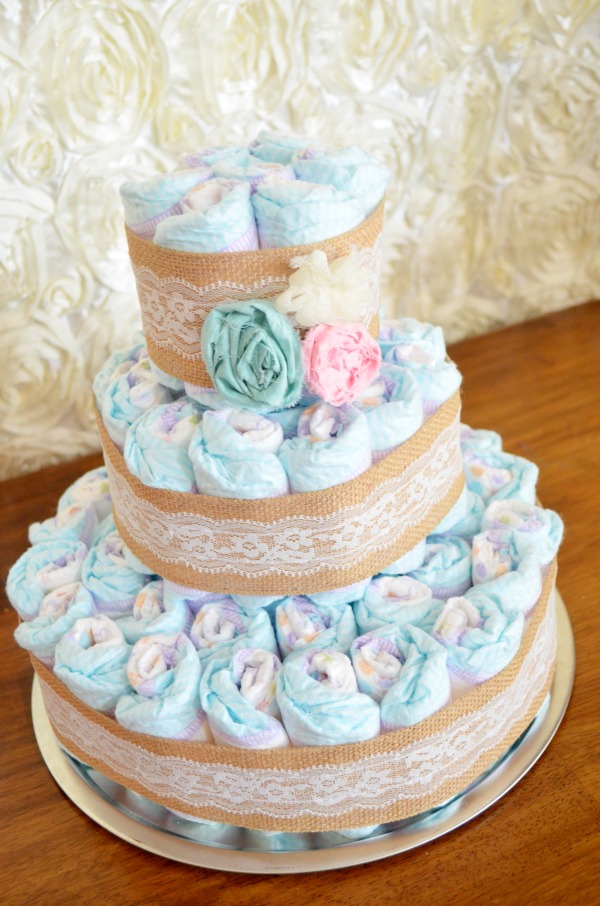 Supplies:
Metal Charger or Pizza Pan
Huggies Newborn Diaper Pack
Clear Plastic Hair Ties
Rubber Bands (different sizes)
Burlap Ribbon
Rosettes
Directions:
Roll the diaper starting from the top into a tight cylinder. Place a clear plastic hair tie around the diaper tube in the middle. The wetness indicator, which changes color when wet, is perfectly centered so I placed mine right there. It also gave them a uniformed look.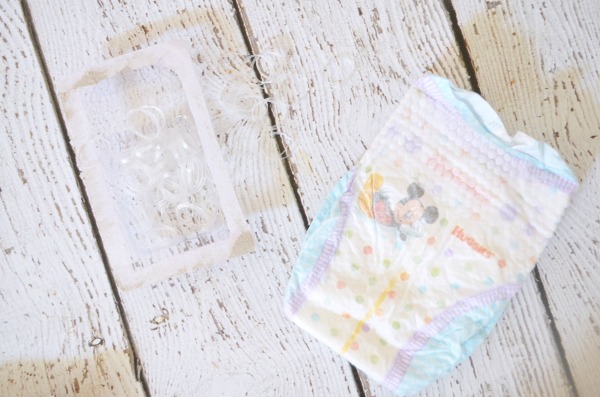 Roll one pack of the Huggies newborn diapers until you have about 70 diaper tubes.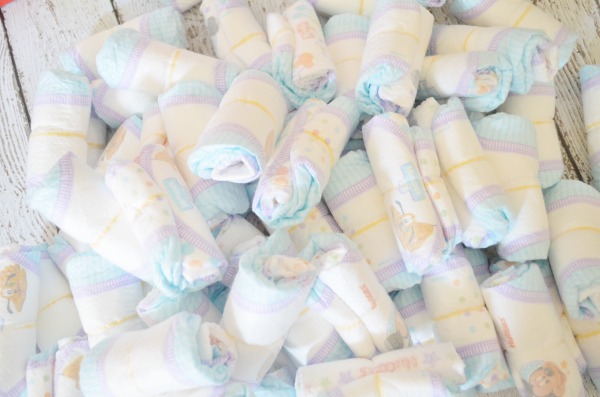 Place a pint sized mason jar in the middle of your metal tray. Place small gifts inside like pacifiers or teething necklaces. Screw the lid on tight.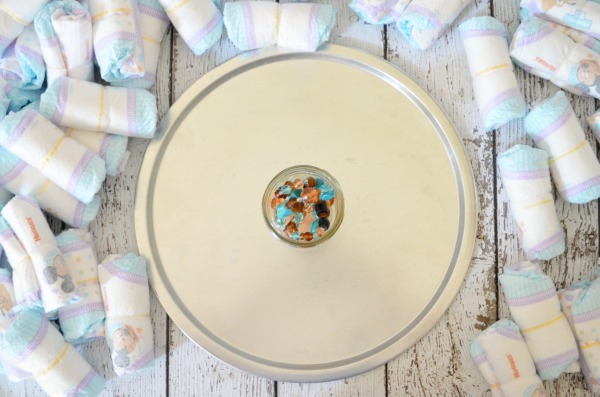 Place a small rubber band around the mason jar. Pull the rubber band outwards and stuff diaper tubes one by one under the rubber band. This will keep the diapers in place as you build the cake. We'll be covering it up later with ribbon.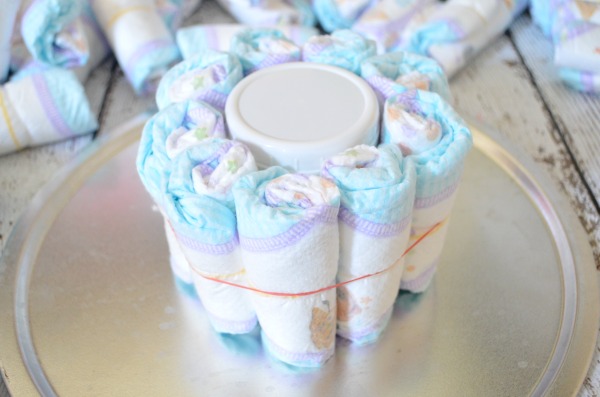 Once you have a circle of diapers, place another, larger, rubber band around the diaper circle. Continue pulling the rubber band, placing diapers one by one until you have another layer to your circle. Do this one more time until you have 3 rings to your bottom layer.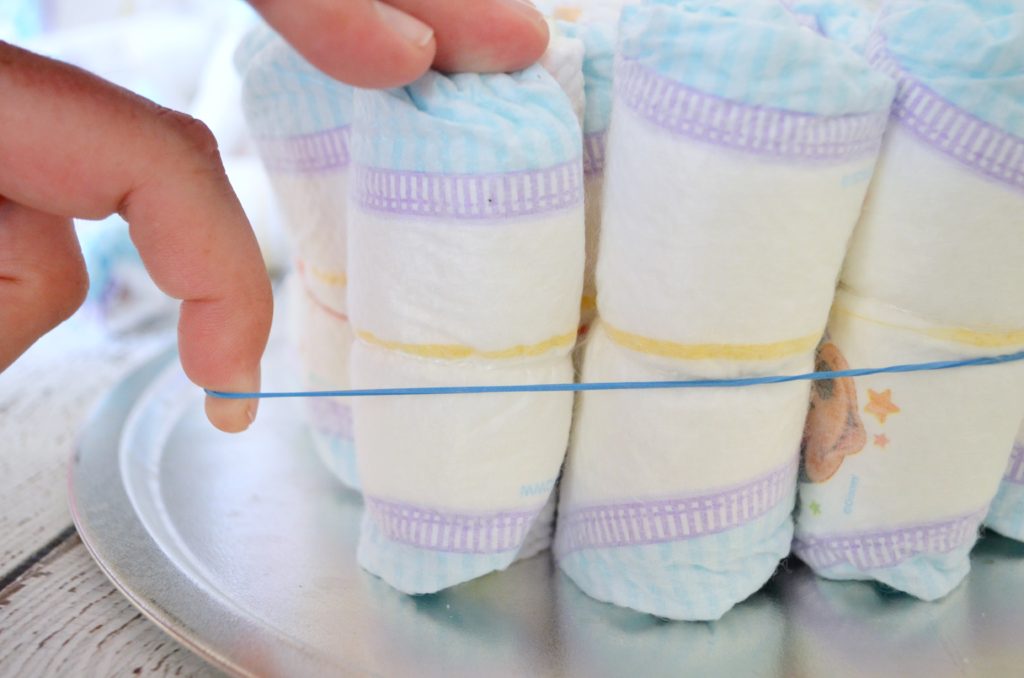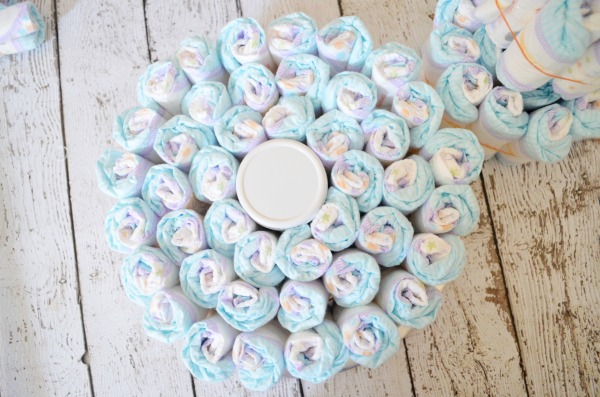 Repeat the same thing you did with the first layer creating two rings; with diapers at the center instead of a jar.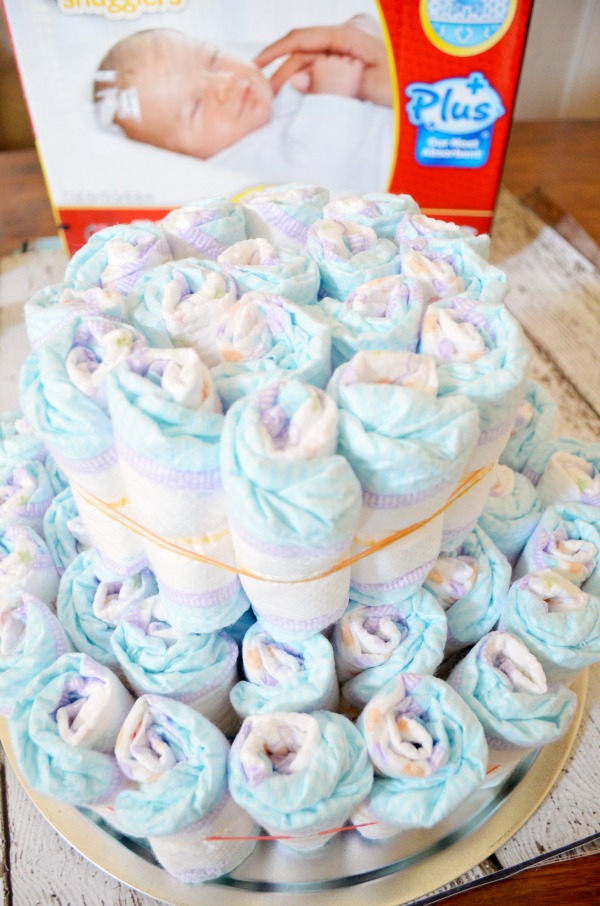 The final layer will be a single diaper at the center with one ring around the outside.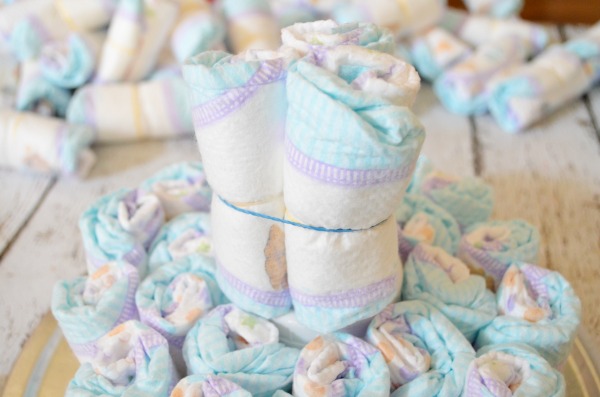 Stack the diaper layers on top of each other. Measure 3 lengths of burlap ribbon to the size of each layer. Wrap the lace embellished ribbon around each layer and secure with hot glue on the ends.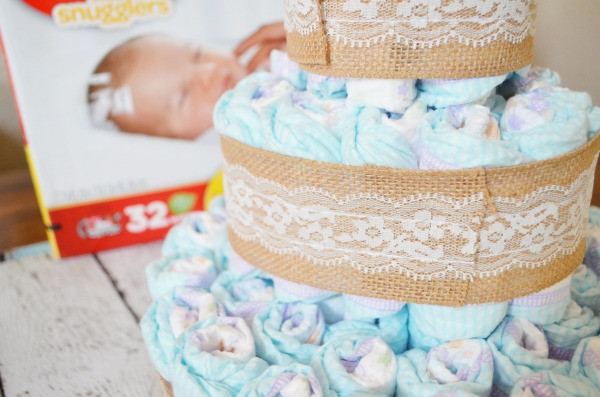 Secure 3 rosettes on the top layer with hot glue. Voila! A diaper cake fit for a shabby chic baby shower. Now all that's left to do is wait for baby's arrival.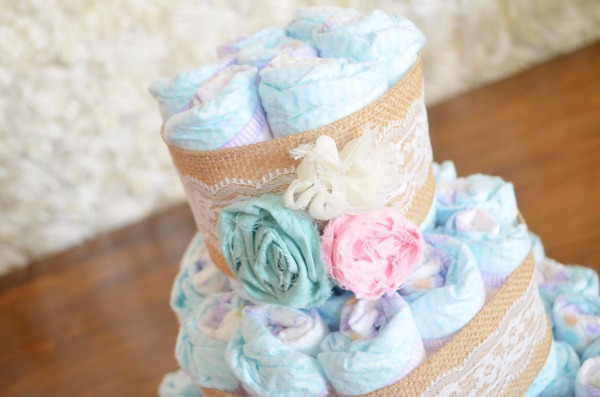 In the newborn stages you'll be going through 10+ diapers a day on average after the first week of life. Thankfully Costco makes it easy to stock up on diapers at a great value.
Huggies Newborn packs come with more than enough diapers to create your diaper cake PLUS a bonus soft sided wipes case (my favorite!) and Huggies Natural Care® Wipes. These packs are available exclusively at Costco.com, and on sale from 9/1-9/24 with $5 off AND free shipping.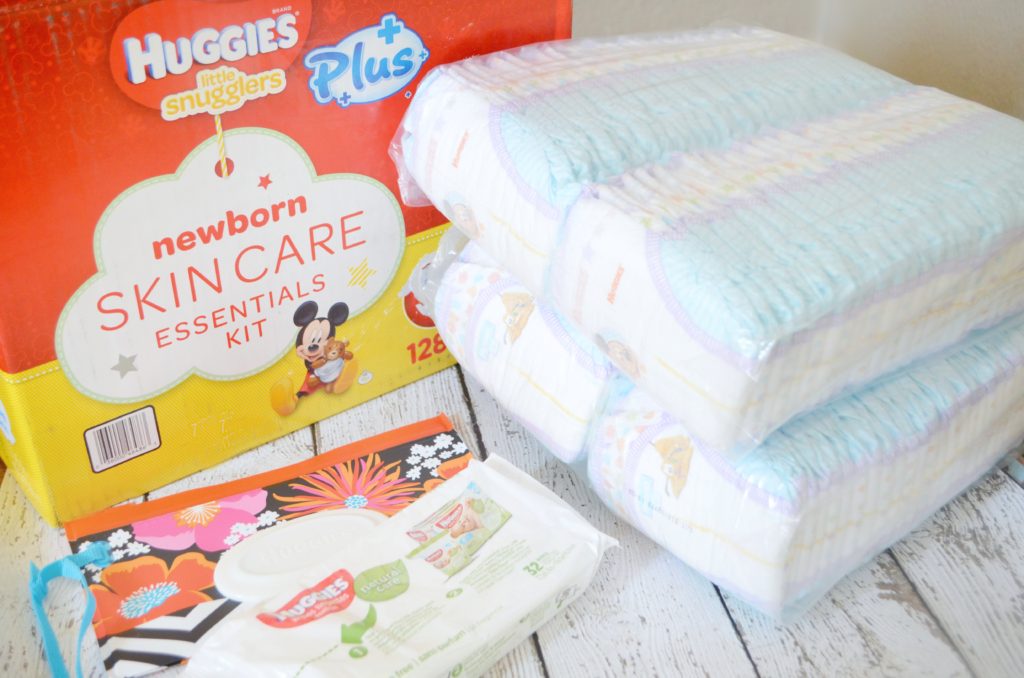 While changing diapers is not rocket science, there are some tips that will make things go smoother. Huggies takes the guess work out of choosing, offering a diaper that is designed to help keep baby's skin clean and healthy. Keep diaper changes simple and easy with these simple steps:
Use a changing pad that doesn't require a cover or line your pad with a water proof mat.
Try keeping the changing station in the bathroom near the mirror to keep baby entertained while changing.
Huggies® Little Snugglers Plus Diapers help keep the mess inside with a pocketed waistband. To keep changes quick and mess free too, place a clean diaper under the dirty one: clean baby, remove the old, replace with the new.
Live in a multi-story house? Keep a mobile change station stocked with all the diaper change essentials.
For even more inspiration, checkout these fun baby shower, nursery, and parenting tips here.