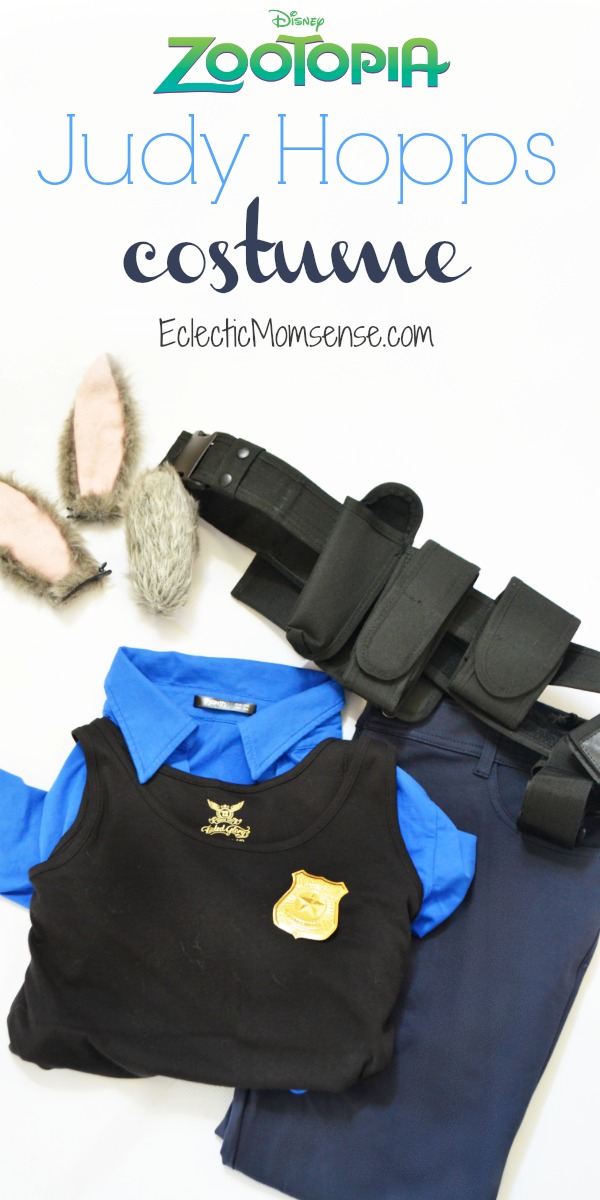 This ain't no token bunny costume, it's a super simple Judy Hopps costume. Another one of the family
ZOOTOPIA costumes
we wore to Mickey's Halloween Party at Disneyland. Again almost everything was pulled from my closet or bought online with a few specialty items like the utility belt and badge thrown in. Let me tell you that utility belt was super handy in the park. Don't be surprised if you see me sporting it on our next Disneyland excursion. There was a water bottle holder, or at least that's what I used it for.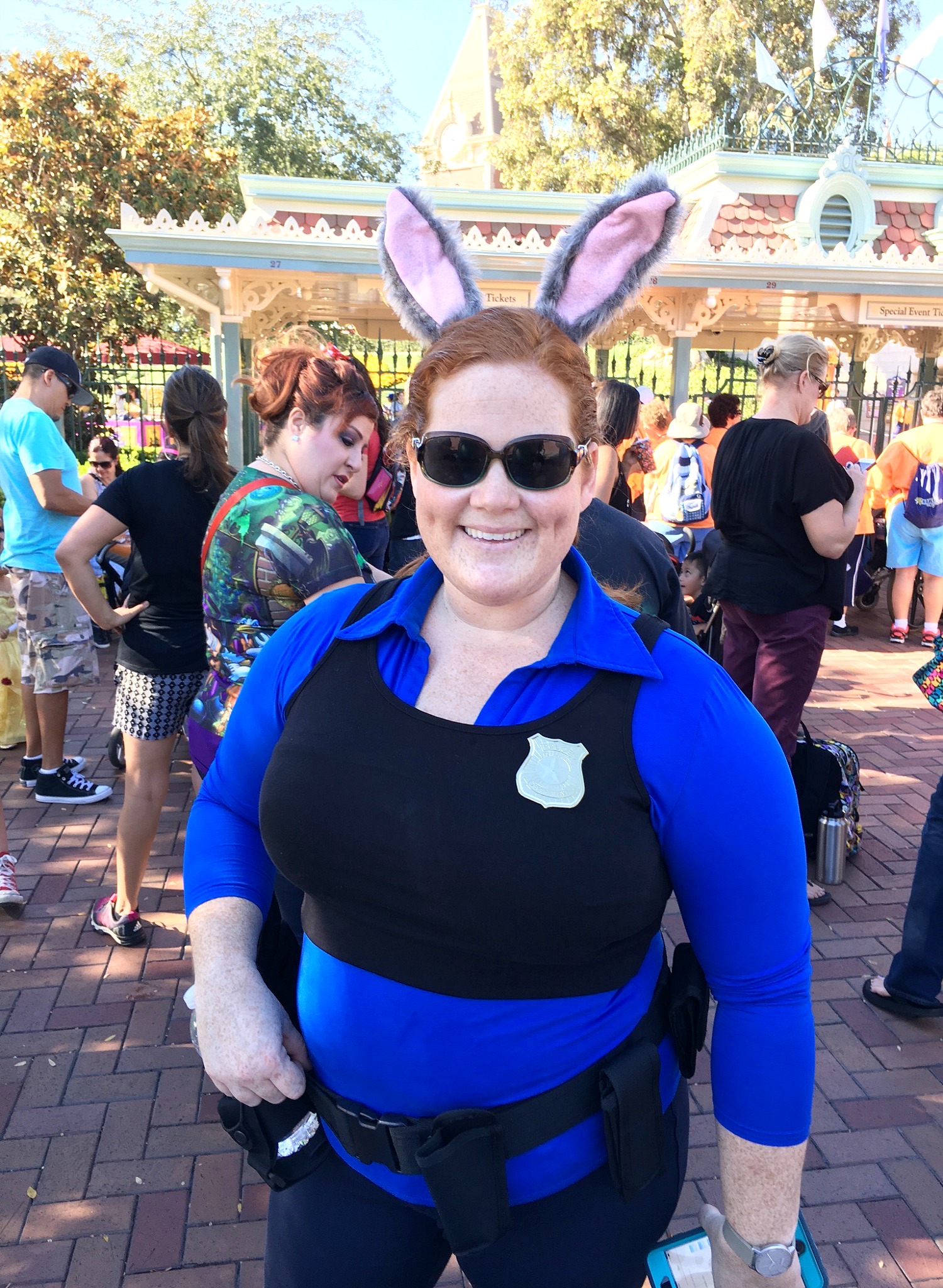 Costume Supplies:
navy blue pants
blue collared shirt
utility belt
black tank or
crop top
badge
gray fur
pink felt
2
alligator hair clips
black ribbon or elastic
wire
white fabric paint
Tail and Ear Directions:
Cut out the felt and fur using the attached pattern.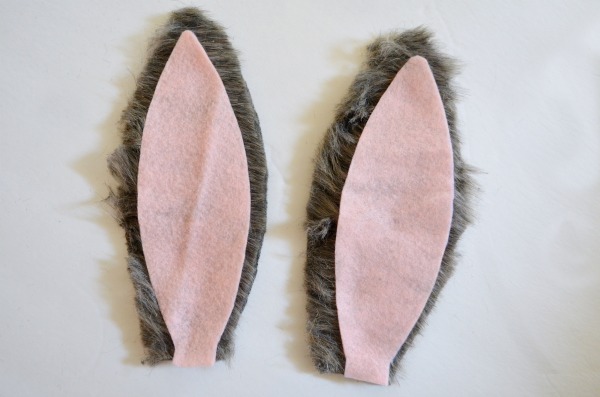 Pin the edged together starting at the tip. Sew right sides together leaving the bottom open. Because the inner felt is smaller the fur will naturally curve around giving it that authentic bunny ear look.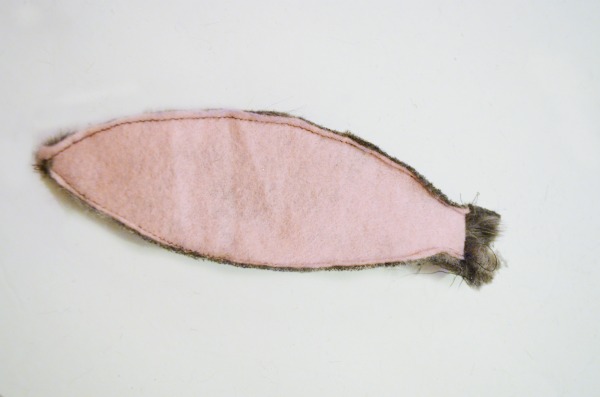 Using a pencil eraser or chopstick, press the tip into the top of the ear. Pull down on the fabric flipping the ears right side
Cut a piece of thin wire 3 times the height of your bunny ear. Bend in half and position and work it into the shape of the outside of the ear. This will allow the ear to stand up, but also gives it flexibility to bend.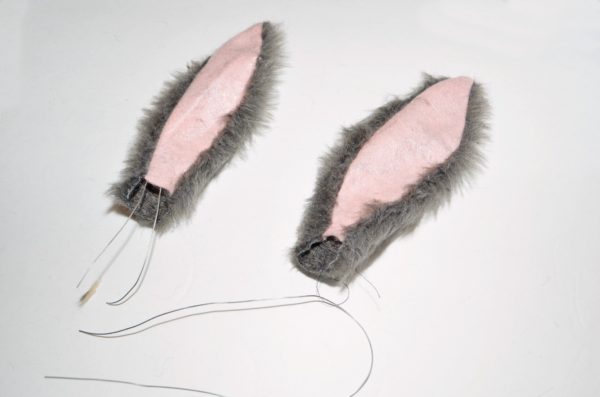 Wrap the ends of the wire around the top of a hair alligator clip. Open up the clip and fold up the rest of the fur, securing with hot glue and tucking the end under the felt. This will cover up the wires as well as give the ear more stability.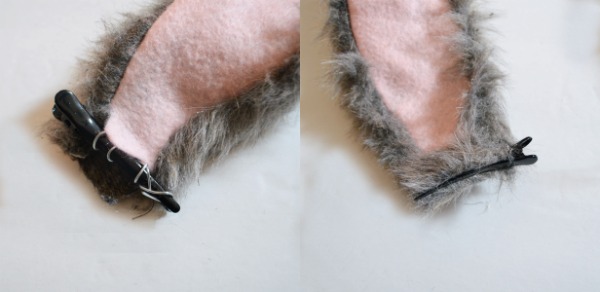 Finish the second ear by folding the wires and securing the fur with hot glue around the other alligator clip. Bend your ear to the desired shape.
Cut out a piece of fur in the shape of a wide tear drop. Sew the edges together leaving an opening to flip right side out. Stuff with polly fill and close. Add a piece of ribbon or elastic on the back flat side. This will give it a place to secure on a belt.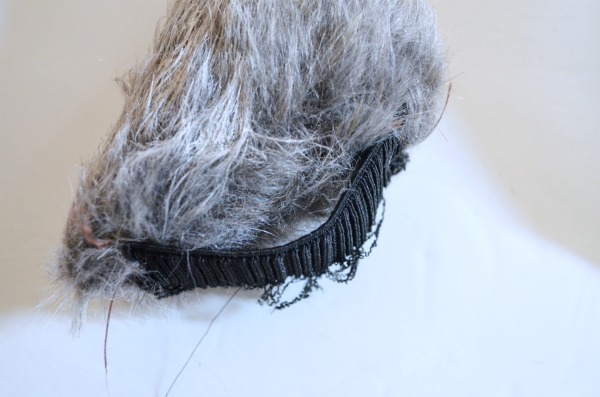 Using white fabric paint, very lighly dry paint it onto the front of the tail. Allow it to dry at least 30 minutes before wearing. Make sure it is dry to the touch before attaching to the rest of your costume.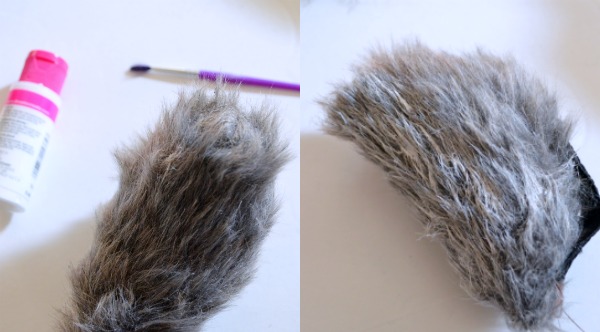 Loop your tail through your utility belt, tuck in your shirt, pull your vest (crop top) over, attach your badge, and place your utility belt with bunny tail looped on. All that's left to do is pull your hair back tightly, I went for french braid piggy tails, and clip on your ears. You're all set to protect and serve ZOOTOPIA!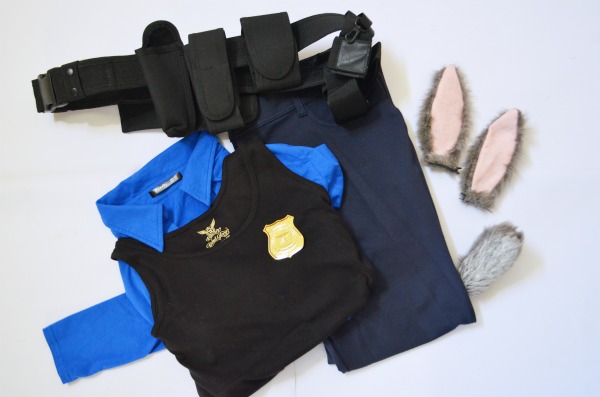 Looking for more DIY costume inspiration? Checkout the other costume posts below:
Flash
Nick Wilde
Clawhauser
Zootopia Family Costumes
Pinocchio Family Costumes
Jake and the Neverland Pirates