I am a member of the Collective Bias® Social Fabric® Community. This shop has been compensated as part of a social shopper amplification for Collective Bias. #AmazonWishList #AmazonHasIt #CollectiveBias
Oh college, it's hard to believe it's almost been 10 years since I graduated. While I did stick around to finish up my master's degree it has been awhile since the first years as a starving college student. Back then my husband and I were dating, he was staying in the dorms, I was at home, and I could still fit into a size 2. Much has changed since then, but I still remember the fun care packages my father-in-law used to send.
Every month a new one would arrive our freshman year. They would be packed with all kinds of goodies and essentials. Now that my sister-in-law is in school I thought it was time to go to work and build a better college care package. I created this easy,
care package wish list
so you'll be sure to send only their favorites. Taking inspiration from my
teacher questionnaire
, it puts the power into the hands of the gift receiver. From their favorite snack and gum to their favorite scent so you can send them to the laundry mat with a detergent they'll use.
Don't just focus on snacks and things to keep them busy during the long hours of studying, think outside the box, even theme them. Use the printable wish list as a starting off point to get their preferences. Start shopping on Amazon and keep a running tab on their special #AmazonWishList. Then you're ready to send their special package with everything they need.
school supplies (pens, highlighters, post its, composition books, flash drive)
tastes of home something to remind them of home (favorite home team souvenir, dozen home-baked cookies)
essentials (deodorant, shampoo/conditioner, laundry detergent, softener, soap, shower sandals)
relaxation to remind them to take a break (magazine, popcorn, movie, nail polish)
I love the idea of an essentials care package. It's never fun running out of the stuff you really need. And union store prices are expensive. My husband was quite lucky having the best girlfriend in the world who did his laundry for him at home. The only time we were left in a pinch getting it done at the dorm was the last. The little detergent bottles were pricey and only lasted a couple loads.
With Amazon's subscription service there's no more worrying about clean clothes because you ran out. Plus you'll save 5%; so no excuse for showing up to that 8am class without fresh clothes.
Introducing the perfect
laundry care bundle pack
with 5 essential products. Shipped straight to their door when they need it. They'll appreciate you for helping them bring the scent of home to school with the outdoor freshness of Tide, Downy and Bounce. And if they don't quite make it to the laundromat and have to grab a shirt off the floor, Downy Unstoppables will have them smelling good with a boost of clean breeze freshness.
Save even more Wednesday, October 15th at the first ever #AmazonWishList social shopping party. Join in the party from 11-12pm EST using the hashtags #AmazonWishList and #AmazonHasIt. There'll be $1 off deals on featured products like the laundry care bundle pack when purchased from Twitter using #AmazonWishList. You don't want to miss it with great prizes, you might just WIN one of 10 Kindle giveaways.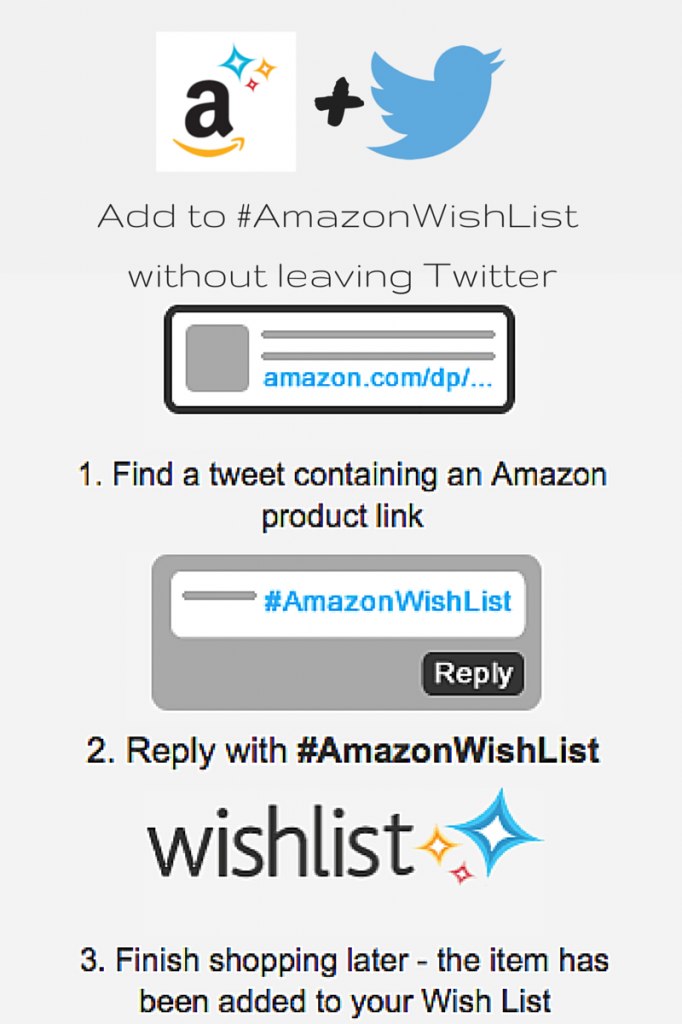 It's simple to add things straight from Twitter to your wish list. If you're already using Amazon Cart you're set. Just start tweeting with #AmazonWishList when you see something on Twitter you want with an Amazon shop link. If it's your first time, start adding and Amazon will let tweet out to you information to get you started.
#CollectiveBias