Disney's newest feature film ZOOTOPIA arrives in theaters everywhere today. The modern animal metropolis presented some unique challenges the Disney Animation crew brilliantly took on. In an interview with Producer Clark Spencer the other day he revealed some fun facts about the film. It was truly an honor to hear from one of the people directly involved in creating this animated feature. He spoke with such passion and admiration!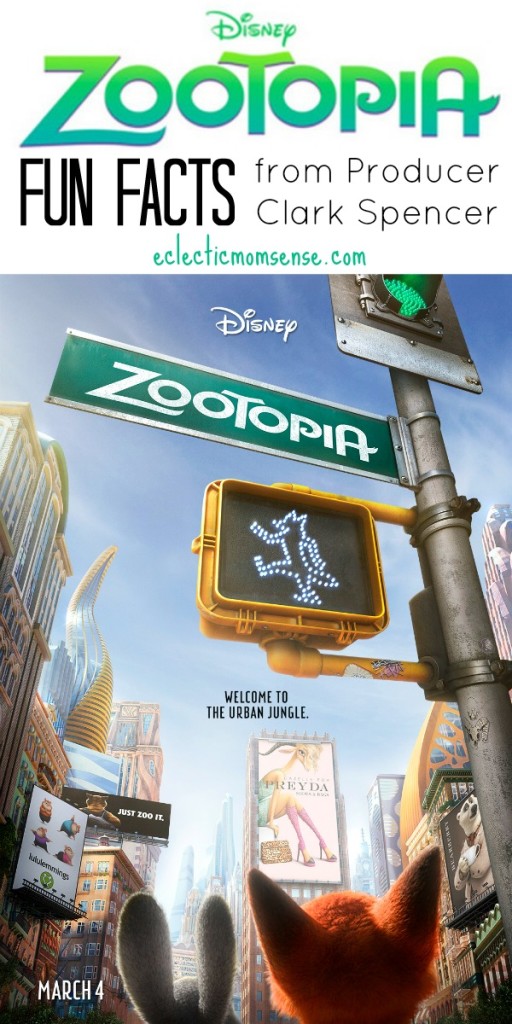 Ready to impress your friends? – here are 10 fun facts about
ZOOTOPIA
.
Largest most complex film Clark has worked on to date. The scoop of Zootopia is huge with several different districts or climate zones (Tundratown, Sahara Square, The Burrows, Rainforest District, Little Rodentia) with their own identity. Thousands of unique animals interact all with their own individual animation challenges.

Creators wanted an animal world where everything was true to size. Because the city is filled with animals of all shapes and sizes, scale became essential to the storytelling. It takes 95 mice to build one giraffe. The true to size scaling provided many opportunities to cleverly approach the environment.
Zootopia is home to 64 different species- over one-thousand animals had to be created with individual traits from clothing to fur color to accessories. Just like in the real life animal world, these animals look slightly different.
Not all fur is created equal. Filmmakers realized during research fur is quite different depending on the species. Did you know a strand of polar bear fur is clear? It's the light reflection that makes it appear white. Artists studied fur down to the microscopic level, creating millions of individual strands for each animal. Nick Wilde has nearly 2 million strands of fur.
Disney is notorious for dropping little Easter eggs in their films. These little hidden gems are often missed by the younger crowd, but adults are surely to pick up on most, which is one of the reasons why Disney is great at creating films accessible to a wide audience. You'll hear a couple FROZEN references. Keep an eye open for ad parodies like: Zoogle, Snarlbucks, and a carrot on the back of Judy's phone. Plus pay attention to the scene with the DVD sales for a glimpse of some fun knockoffs on current and upcoming Disney films.

In Zootopia nothing is all animal or all human; there's a balance. Creators drew from real life to make it relatable. My husband urged me to find out if the characters are inspired by the voice actors at all. Clark recounted that while not directly influenced the animators become familiar with the voice actors and in an organic way some of those features or mannerisms come out in the characterizations. For instance Judy Hops talks with her hands like her voice actress, Ginnifer Goodwin.
It took 5 years to develop the film and a big chunk of that time was spent doing field research. Creators spent 18 months researching animals at Disney's Animal Kingdom and even spent 2 weeks in Kenya. It was important to get their personality and behavior to feel authentic.
Nick was originally plotted as the main character. It wasn't until much later into the development of the film that the focus shifted to Judy. Because Nick is a 'sly fox' his perspective and the tone of the film was much more cynical. Creators felt Judy would provide a more positive lens to explore the theme of shedding assumptions and to be happy with who you are.
Sloths didn't arrive until Judy was added as lead. The whole DMV scene was suggested later on in development. And boy are we happy they did, Flash steals the show more than once!
There is definitely some influence from other famous films. Robin Hood and the idea of personified animals, but you'll also notice other fun references like, The Godfather.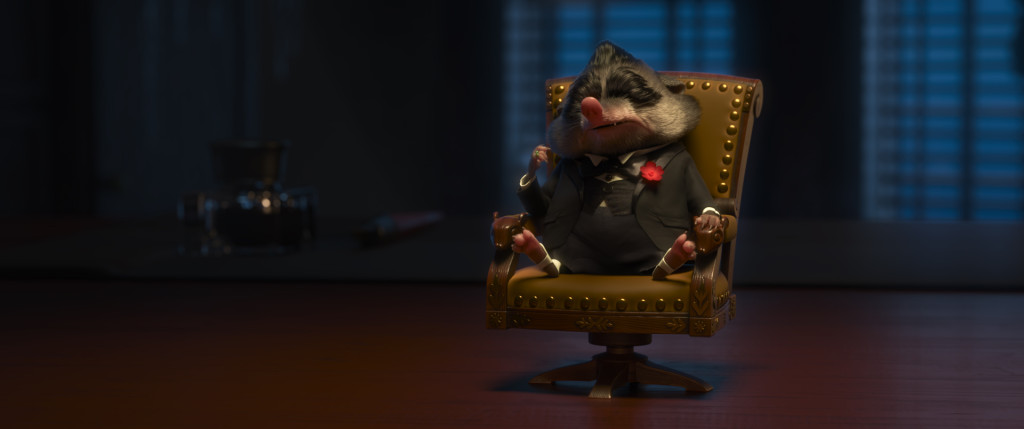 This was such a fun opportunity to meet with Producer Clark Spencer. Not to mention I got some great cool mom points with my oldest who is quite interested in the creation of animated films.
See ZOOTOPIA in theaters everywhere today, March 4th. Then join ZOOTOPIA on social as you experience the movie. Facebook | Twitter | Instagram | Tumblr