I am a member of the Collective Bias® Social Fabric® Community. This shop has been compensated as part of a social shopper insights study for Collective Bias and their client.
No, that is not my son's latest art work. Well, that's not entirely true he did contribute. This is in fact the combined effort of a huge posse at the Day of the Cowboy event we attended last weekend. A duel went down between a few bottles of ketchup, mustard, soy sauce, blue Powerade, grape juice and Mohawk's SmartStrand carpet. A few stray ribs found their way in too courtesy of chef Aaron Friedman at Gold Canyon Ranch.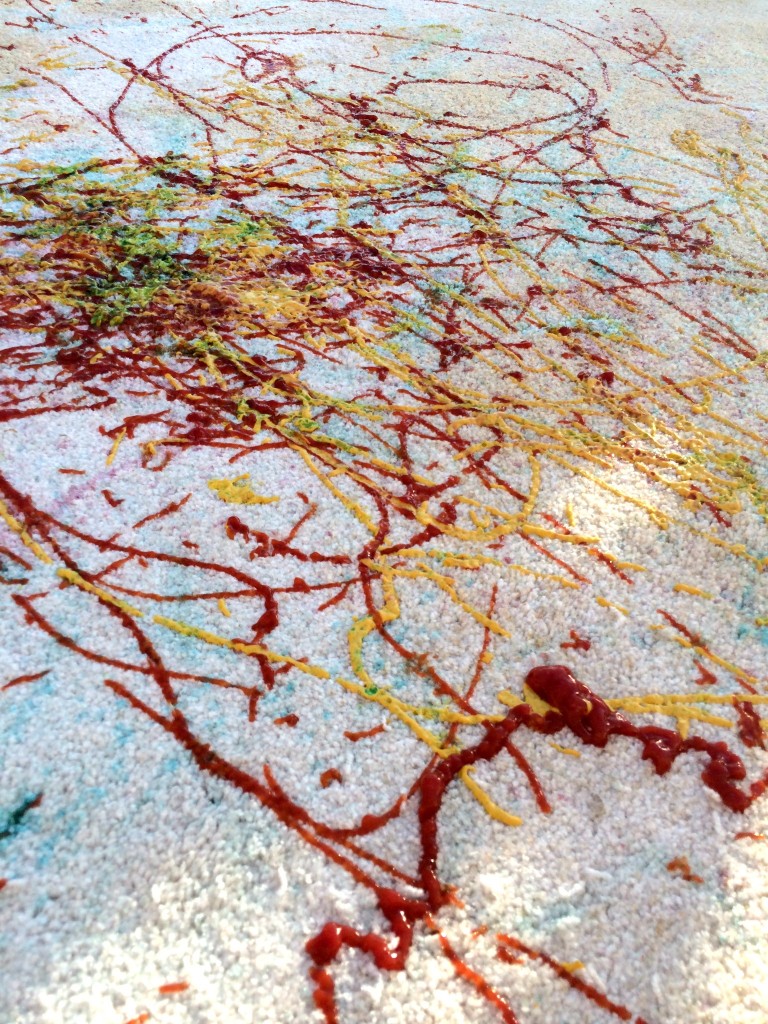 Now if this was our current carpet I'd be a little concerned. The clumsy coffee drinkers at home have tested the stain resistance of our white, 17 year old carpet and it doesn't stand up.
SmartStrand is different than any other carpet on the market. Rather than a topically applied stain treatment SmartStrand has stain and soil resistance built permanently into every fiber. Eliminating the need to reapply due to wear and tear over time. And even better this eco-conscious mom likes that no harsh chemicals are needed for cleanup. A little warm water, dish soap for heavier stains, and a dishrag is all you need.
Checkout out the results below. My boy eventually warmed up to making a mess; he was so cute. We just got our carpet cleaned so it's been a no shoes, no food on the carpet kind of month. He was very reluctant to spray anything on it at first. He upright refused, then I couldn't get him to stop. In true style though he kept running back to the stroller to grab a wet wipe to wash off the stickies.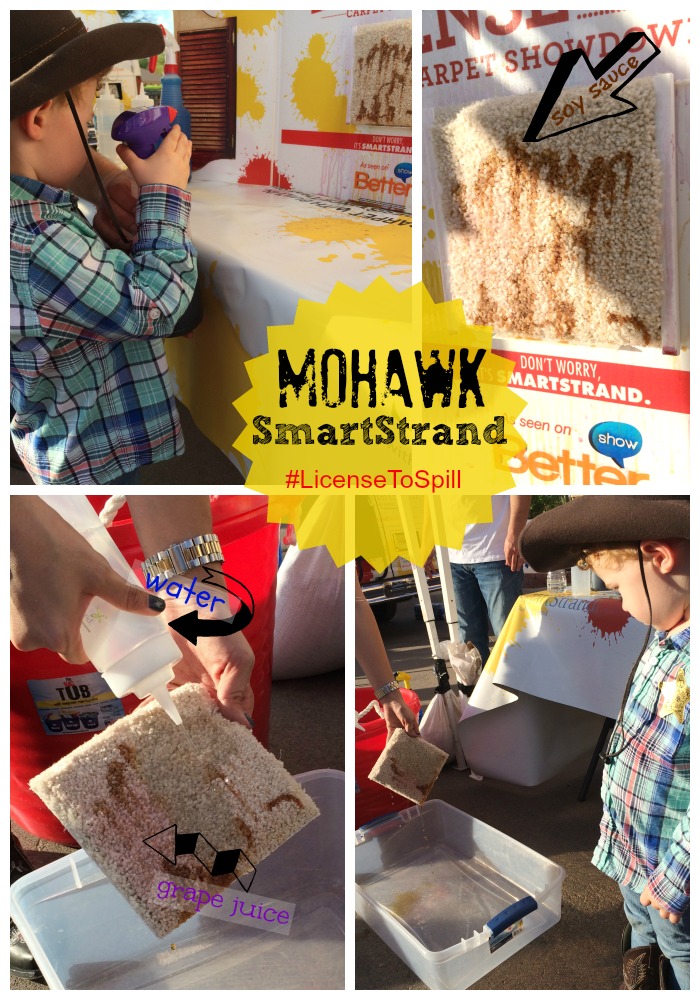 I was more than impressed with the results, before and even more so after hearing it held up to 2 weeks in a rhino enclosure. Now that's what I call quality control. My mother-in-law is due for new carpet in the next couple years and after seeing and testing it out Mohawk is a name that will stick when it's time to go shopping. They are the world's largest flooring manufacturer with local retail partners all over the US. Just checkout the gorgeous selections below.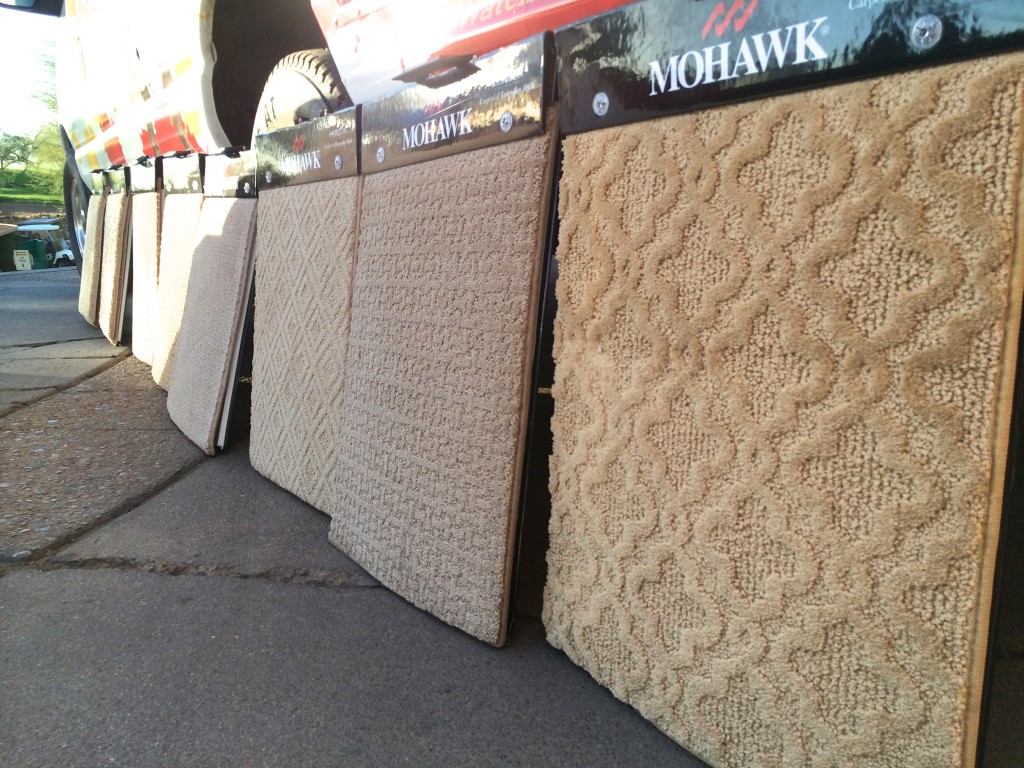 And I couldn't resist throwing this picture in. It's not often I get a good picture with both my boys. Also note the little cute mascot on the van behind us. I'd say the Mohawk and the Better TV Crew picked the perfect last stop on their Licensed to Spill tour.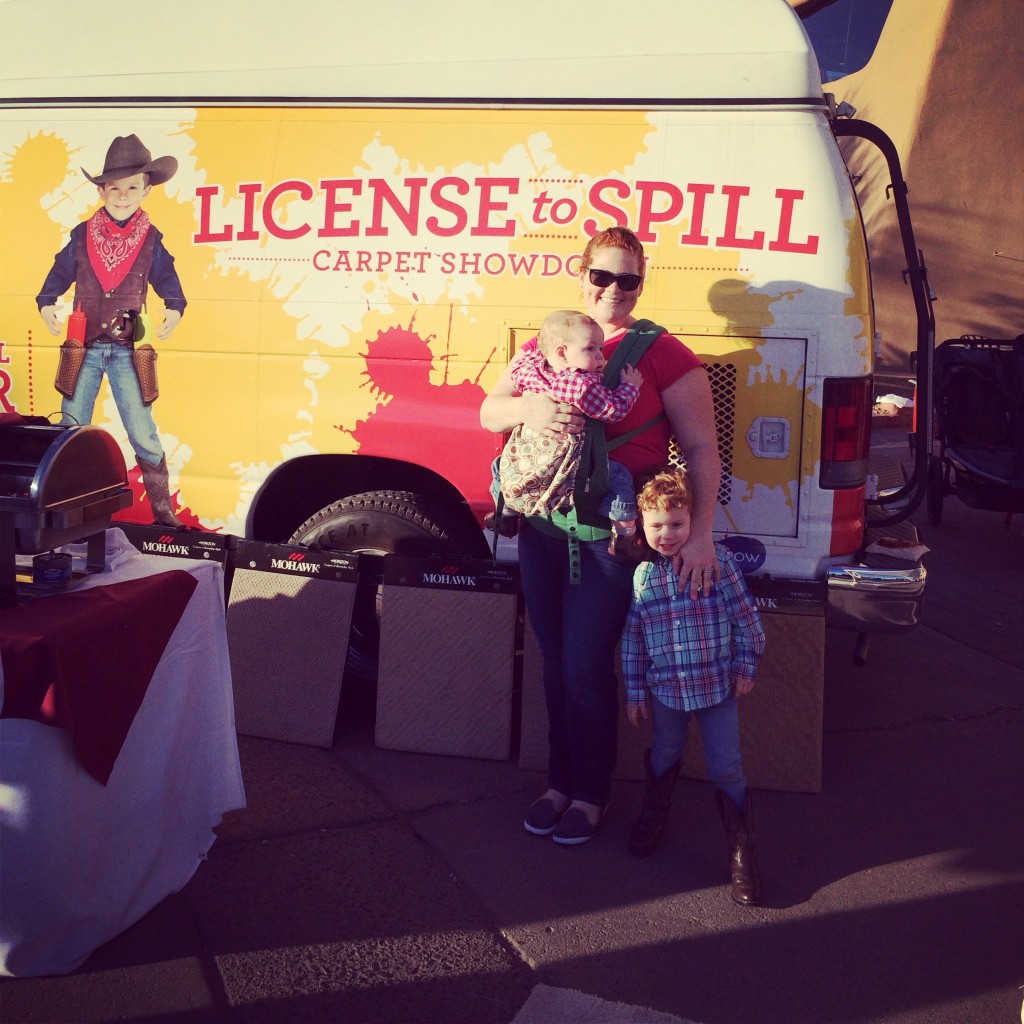 Get Social with Mohawk on Facebook and Twitter. And make sure to enter for your chance to win a 6×9 SmartStrand silk rug of your choice.