Chili Cheese Pull Apart Bread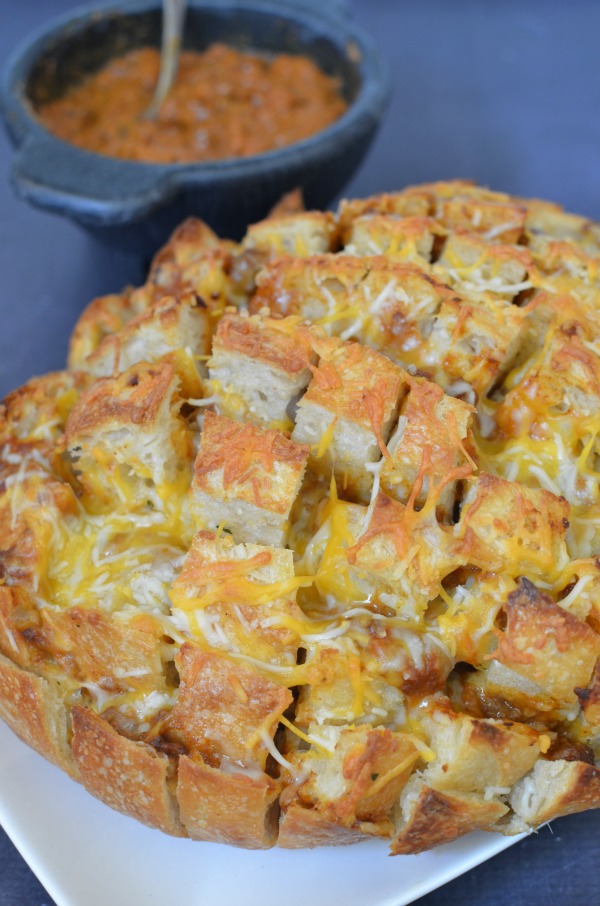 Author:
Kelly @eclecticmommy
1 round sourdough loaf
4 tbsp. butter
1 tsp. taco seasoning
1 c shredded cheddar cheese mix
1 c. chili
cilantro (optional)
Preheat oven to 400°F. Slice bread at an angle, almost all the way through. Space slices 1 inch apart.
Mix butter and taco seasoning, then spread between the slices of each bread (both sides).
Cross bread in the opposite direction, with 1 inch spaces. Push ½ c. shredded cheese in between each crevice.
Stuff spoonfuls of chili between the slices.
Place the bread on a large sheet of aluminum foil on a baking sheet.
Top with the remaining cheese, making sure to stuff between every crevice.
Wrap with the aluminum foil. Place in the oven for 15 minutes.
Uncover and cook for 5 minutes more, until all of the cheese has melted.
Garnish with fresh cilantro and serve with a side of heated chili for additional dipping.
Recipe by
Eclectic Momsense
at https://eclecticmomsense.com/chili-cheese-pull-apart-bread/