Breakfast Berry Freakshake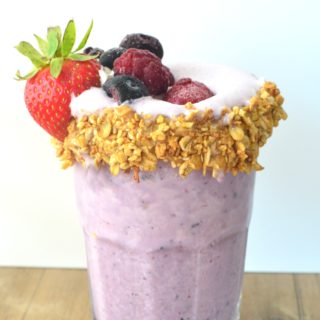 Author:
Kelly @eclecticmommy
SHAKE:
2 tbsp. milk (skim, coconut, or almond)
¼ c. fresh strawberries
1 c. vanilla bean ProYo High Protein Low Fat Ice Cream
¼ c. frozen berries
RIM:
1 tbsp. peanut butter
1 tbsp. granola
Add the ingredients to your blender in the order listed. Softer high liquid content foods should go first.
Blend on the smoothie setting or start on low slowly increasing the speed until the shake is smooth.
Using a knife or small spatula spread peanut butter onto the rim of the cup.
Roll, and gently press the granola onto the rim so it sticks to the peanut butter.
Pour shake into your cup until about ½" is left. Slice one strawberry just until the midway point.
Place on top of the cup.
Add a small dollop of ice cream right on top against the edge of the glass, and pile high with berries.
Recipe by
Eclectic Momsense
at https://eclecticmomsense.com/berry-freakshake/